A SUPERB LARGE WORKING SCALE MODEL, OF A VICTORIAN / EDWARDIAN STEAM TRACTION ENGINE

(Built circa 1929-1933).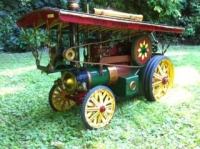 A very lovely, early and original hand built machine which is sure to create serious interest in the model engine and steam vehicle collecting fraternity. 

The overall dimentions of GEORGE V are:
Length:  30" inches
Width:   12" inches 
Height:  16" inches
(longitudinal distance between wheel centres is 17" inches)
This is a nice BIG engine and not one of those small Mamod type items we used to play with at school in the 1960's (although they were good fun !) 
The engine is named up to
"GEOFF HICKMAN, ASHTON-IN-MAKERFIELD"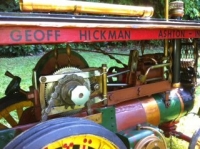 The colours are truly vibrant as can be seen from the photographs and the quality of the build is very good for an engine of this age. There is one tiny pipe section which has come adrift at the side of the (slave?) piston area which needs brazing back in a couple of spots but that should not present a problem for the serious enthusiast with the kit to sort it out. I'm sure that this machine would chug away very well given the correct and professional pre-running checks etc. We have never run the engine but everything moves freely and appears tight and correct.          

  (Click pictures to enlarge)
The interior is well detailed right down to the original miniature coal shovel which is clipped to the inside right of the driver cab.


If you are interested to purchase this lovely engine we invite you to call us on 01342-870926 (or) 07837-621144 to discuss further. Collection will have to be arranged as this is a seriously heavy piece of engineering.
Overseas buyers are also very welcome indeed to contact us and we can have a chat about shipping etc if the machine is leaving the country. 
NOTE ** We are also pleased to do a full or part exchange for any war medals, militaria, coins or banknotes which you may have for disposal.     
 SOLD
Looking forward to hearing from you .