BATTLE OF BRITAIN NEWSPAPER
(16th September 1940)
(Daily Herald)
Issue No. 7672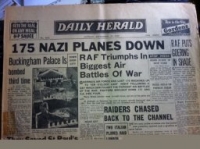 Even during the battle they were advertising those good old favourites
HP SAUCE and GORDON'S GIN !

£55

An edition issued right at the peak of the battle. (Battle of Britain Day is 15th September) . Coverage of the bombing of Buckingham Palace.