A superbly interesting and historic Original Photographic Post Card of
SAMUEL CODY.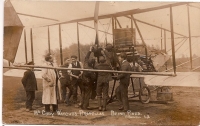 ( Mr CODY Watches 'Propellas' Being Fixed" ( Card by F Scovel)

Postmarked " ALDERSHOT. 3:30pm. 8th August 1913.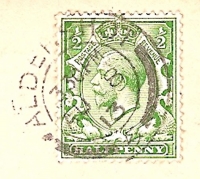 (Cody was only killed the morning before on 7th August !)
The correspondence relates to the fatal accident in which Cody and his passenger W.H.B Evans were killed when his aircraft suffered a structural failure and crashed at Farnborough.

..."What do you think about Poor Old Cody ? Glads went over and saw the wreck. Thought you might like a card of him dear"
A real classic for the serious Aviation card collector
£95