Original photograph of the funeral of Flt /Lt Richard Thomas GATES (R.N.A.S.).

Richard Thomas Gates was holder of Royal Aero Club Licence No. 225 (4th June 1912)
Born in 1878 in Brighton, he was a former Yeomanary officer who used a Howard-Wright Biplane at Hendon to pass his test. Became general manager of the Grahame-White factory at Hendon. He was given a special duty commission in the Royal Naval Air Service in the Home Training Command at the start of the first world war. Died of injuries on 14 September 1914 a few days after his Henry Farman biplane crashed at Hendon returning from an anti-Zeppelin patrol.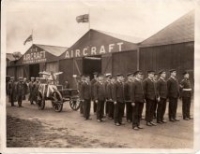 Notes on the reverse of the photograph state;
"FUNERAL OF LIEUT GATES"
TRAGIC DEATH of A YOUNG OFFICER AVIATOR
'He ascended from the Aerodrome during the night to manoevre about London in search for foreign aircraft but, when endeavouring to land to deliver his reports, he evidently mis-judged his distance in the dark .Photo shows - Coffin on a Gun Carriage with model Aeroplane as a wreath, being brought out of the Hangar by naval men.
Flt/Lt Gates is buried in HENDON (St Mary) CHURCHYARD and is commemorated on Brighton War Memorial .Listed in St Peter's Memorial Book under RFC/RAF LT's
£50