THE LIFE OF LORD NELSON
by
Rev, Stanier Clarke & Mc Arthur.

1st EDITION 1809
A wonderful and rare Full Leather. First Edition. Elephant Folio - over 15" - 23" tall. London, Printed by T. Bensley for T. Cadell and W. Davies, 1809. First edition. 2 volumes; Folio.
Contemporary full calf, hinges are a little weak or split and covers are partially detatched and tape re-enforced inside covers. In need of some love and restoration, the books are however totally solid and all original. Copper-plate engravings: an allegorical frontispiece, 1 portrait, an architectural plan of the Martello tower and its gun, 4 Richard Westall engravings depicting notable events in Nelson's naval career, each accompanied by a battle-plan by Nicholas Pocock, 4 more full page engraved plates (21 full-page plates in total), 4 vignettes and 4 facsimile letters and a document, as well as a 2-page fold-out family tree of the Nelson pedigree.
An Unusual and Historic Provenance:
This particular copy of this most famous and sought after two volume 1st edition has an interesting history. The books were located in 2006 in an on-line charity auction in the U.S.A. They had for generations (since 1814) been in the family of a lady from the town of Plattsburg on the banks of Lake Champlain. Her late husbands relation was an early American Naval Officer who took part in the total rout of the Royal Navy during the famous Battle of Plattsburg on Lake Champlain, ironically on 11th September 1814.

As the books are so very heavy they had not left the town since they were "liberated" from one of our ships which surrendered that day. Clearly, some English Naval Officer had taken these books to sea in the hope of getting some off duty reading time on the voyage to and from America and lost them to the 'enemy' who's relations kept them safe until they returned to England in 2006 !
A truly lovely and astonishing find. I've seen these bring over £2000 in similar condition in the main London auctions, and there are a few lesser or similar sets around the book trade at £1500-£1750, so we feel that our asking price is a real bargain.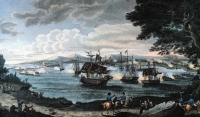 £1250