LUFTWAFFE
(2nd Type)
Officer's Dagger
(circa,1940)
"Battle of Britain Period"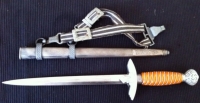 With the deep yellow handle as found on the earlier issues, this example, by SMF of Solingen, comes complete with its original hangar.
A very attractive and collectable WWII Luftwaffe 'Nazi' Officers's Dagger.
Excellent condition with no hidden problems. Blade is nice with normal wear and scabbard contacts. Scabbard with no bends.Hanger with normal wear having been in use during WWII.
An old sleepy item from our own collection which was bought by us when nice examples of these were available at £45 in the late 1970's.
A great display item. Buyer will be delighted with it.
Ideal for show re-enactors.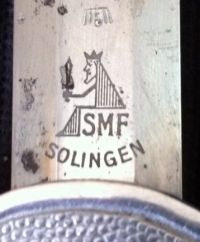 £650
(ALL MILITARIA CAN BE EXCHANGED FOR MEDALS)


Notes on Purchase
! IMPORTANT !
Private Buyers of edged weapons not already known to us MUST provide us
with TWO trade references AND proof of age.
MILITARY TRADERS MUST FURNISH A CURRENT BUSINESS LETTER HEAD AND FULL BUSINESS I.D.
If you wish to purchase this item, please call us on 01342-870926 in the first instance.
Thank You .
STATEMENT
The sale and display of Nazi memorabilia is a delicate subject in some camps.
However, we feel, and have always felt, that in the same way the Holocaust is constantly
remembered, that the 'hardwear' of the Third Reich should be available and be freely seen 'in all its horror' so that the current and future generations can see the true extent of what the allies had to take on to win our current freedoms.
Maybe then we can help to ensure that the mistakes made by some of my grandfather's and fathers' generation are not repeated, and that hopefully nothing like it ever happens again.
'THAT FUTURE GENERATIONS MAY REMEMBER ....BUT LIVE IN PEACE'.