BRAVEST of THE BRAVE.
(Mark Seaman)
The true story of Wing Commander Tommy Yeo-Thomas. GC, MC*, CdG LdH
'THE WHITE RABBIT'
S.O.E.'s most famous agent.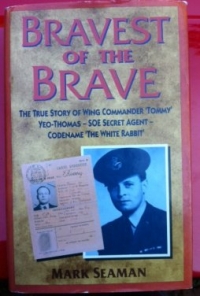 One of the Second World Wars most incredible officers.
A story to make your hair turn white. Tommy Yeo-Thomas was dropped into occuppied France three times and fell into the hands of the Paris SS and Gestapo.
Brutally interrogated to the point of death for a total of over 6 months at the SS and Gestapo HQ at 84 Avenue Foch and Fresnes Prison, he told the Germans nothing.
Transported to Buchenwald Concentration Camp he escaped and eventually made his way to the allied lines.
A REMARKABLE STORY OF SURVIVAL THROUGH SHEER GUTS AND DETERMINATION. A TALE OF TOTAL REFUSAL TO GIVE IN AGAINST OVERWHELMING CIRCUMSTANCES & IMPOSSIBLE ODDS.
AWARDED THE GEORGE CROSS , MILITARY CROSS & BAR.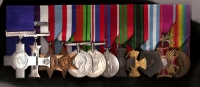 EVERYONE SHOULD READ THIS BOOK WHICH IS BECOMING A CLASSIC.
(Cover Price £17.99)
Our Price
£12.00

( We also have a display group featuring Tommy's medals for sale
at "Royal Air Force Medals (WW2)"
*see photo above*
The G.C. and M.C. and bar are of course copies, but all the campaign stars and other medals are genuine and include original examples of the scarce French, Belgian resistance awards and a WW1 USA Victory Medal.)
All court mounted at £695.
The Original medals and full details of Tommy's war are on permanent display in the new "Lord Ashcroft" V.C. & G.C. gallery at the Imperial war Museum, Lambeth, the medals being part of the IWM holding.


Yeo-Thomas' award of The George Cross was published in the London Gazette on 15 February 1946:
The KING has been graciously pleased to award the GEORGE CROSS to:
Acting Wing Commander Forest Frederick Edward YEO-THOMAS, M.C. (39215),
Royal Air Force Volunteer Reserve.
This officer was parachuted into France on the 25th February, 1943. He showed much courage and initiative during his mission, particularly when he enabled a French officer who was being followed by a Gestapo agent in Paris to reach safety and resume clandestine work in another area. He also took charge of a U.S. Army Air Corps officer who had been shot down and, speaking no French, was in danger of capture. This officer returned to England on the 15th April,1943, in the aircraft which picked up Wing Commander Yeo-Thomas.
Wing Commander Yeo-Thomas undertook a second mission on the 17th September, 1943. Soon after his arrival in France many patriots were arrested. Undeterred, he continued his enquiries and obtained information which enabled the desperate situation to be rectified. On six occasions he narrowly escaped arrest. He returned to England on the 15th November, 1943, bringing British intelligence archives which he had secured from a house watched by the Gestapo.
This officer was again parachuted into France in February, 1944. Despite every security precaution he was betrayed to the Gestapo in Paris on the 21st March. While being taken by car to Headquarters he was badly beaten up. He then underwent 4 days continuous interrogation, interspersed with beatings and torture, including immersions, head downwards, in ice-cold water, with legs and arms chained. Interrogations later continued for 2 months and Wing Commander Yeo-Thomas was offered his freedom in return for information concerning the Head of a Resistance Secretariat. Owing to his wrist being cut by chains, he contracted blood-poisoning and nearly lost his left arm. He made two daring but unsuccessful attempts to escape. He was then confined in solitude in Fresnes prison for 4 months, including 3 weeks in a darkened cell with very little food.
Throughout these months of almost continuous torture, he steadfastly refused to disclose any information. On the 17th July 1944, Wing Commander Yeo-Thomas was sent with a party to Compiegne prison, from which he twice attempted to escape. He and 36 others were then transferred to Buchenwald. On the way, they stopped for 3 days at Saarbrucken, where they were beaten and kept in a tiny hut.
They arrived at Buchenwald on the 16th August 1944 and 16 of them were executed and cremated on the 10th September. Wing Commander Yeo-Thomas had already commenced to organise resistance within the camp and remained undaunted by the prospect of a similar fate. He accepted an opportunity of changing his identity with that of a dead French prisoner, on condition that other officers would also be enabled to do so. In this way, he was instrumental in saving the lives of two officers.
Wing Commander Yeo-Thomas was later transferred to a work kommando for Jews. In attempting to escape he was picked up by a German patrol and, claiming French nationality, was transferred to a camp near Marienburg for French prisoners of war. On the 16th April,1945, he led a party of 20 in a most gallant attempt to escape in broad daylight. 10 were killed by fire from the guards. Those who reached cover split up into small groups. Wing Commander Yeo-Thomas became separated from his companions after 3 days without food. He continued alone for a week and was recaptured when only a few yards from the American lines. A few days later he escaped with a party of 10 French prisoners of war, whom he led through German patrols to the American lines.
Wing Commander Yeo-Thomas thus turned his final mission into a success by his determined opposition to the enemy, his strenuous efforts to maintain the morale of his fellow-prisoners and his brilliant escape activities. He endured brutal treatment and torture without flinching and showed the most amazing fortitude and devotion to duty throughout his service abroad, during which he was under the constant threat of death.