A Magnificent and 'Ultra Rare'
Distinguished Flying Medal & Second Award Bar.
(Wireless Operator, Air Gunner)
To:
643309. Flt/Sgt - W/O Eddie Leavesley.
50 and 106 Squadrons RAF.
( Commanded by and flew with Guy Gibson. Served with "Hoppy" Hopgood and several other Dambusters while on 106 Squadron before 617 Squadron was formed for the Dams Raid )
The DFM & 2nd AWARD BAR (Dated 1943).
During the war the medal was the subject of a neat repair at the suspender after it 'fell off'.
(Apparently during a VERY "Spirited" celebration !)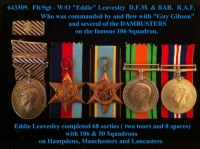 The complete group showing,
1939-45 Star,
Aircrew Europe Star,
Defence Medal,
War Medal,1939-45
Eddie Leavesley never wore his other medals and they remain in the box of issue, off the ribbons, with the original issue slips.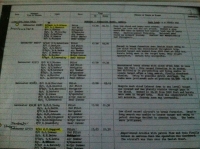 With full copies of Ops Records for his 68 Sorties showing several raids where members of the Dambusters also took part.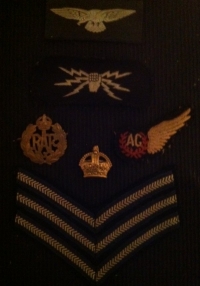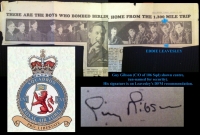 Uniform Badges, and many original newspaper cuttings.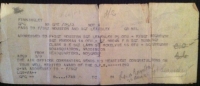 Also, the original congratulatory telegram on the award of his DFM.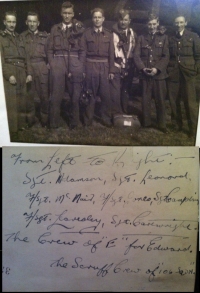 Copies of both citations and several (named) photographs of he and his crews on 50 and 106 Squadrons. Seen here with the crew of Lancaster "E" Edward of 106 Squadron.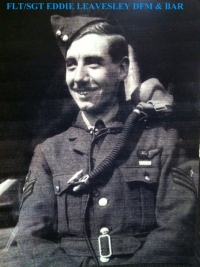 "Eddie" Leavesley shown wearing his DFM ribbon.
He was from Windlehurst, near St.Helens, Lancashire.

THIS IS A VERY SELDOM SEEN "DOUBLE AWARD" OF THE D.F.M. ONLY 60 2nd AWARD BARS WERE AWARDED DURING THE WHOLE OF WORLD WAR TWO.
A MAGNIFICENT INVESTMENT

SOLD