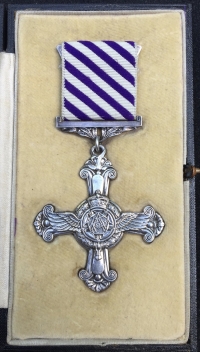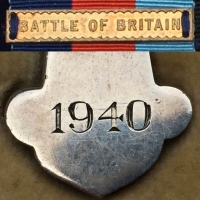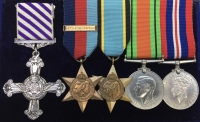 A SUPERB & VERY RARE

" BATTLE OF BRITAIN, 80th ANNIVERSARY"

OFFERING. An (Unattributed) BATTLE of BRITAIN,

DISTINGUISHED FLYING CROSS

(

1940

) Aircrew Europe Group of Five. 1939-1945 Star (

Battle of Britain Clasp

) & Aircrew Europe Star The Aircrew Europe Star, is also a superb original example in 'Mint State' on its original silk and cotton WW2 ribbon Defence Medal & War Medal.

Seldom are we able to offer such a rare and sought after Battle of Britain assembly, but as a very special 80th Anniversary offering we are delighted to make this seriously rare group available. The 1940 Distinguished Flying Cross is a sheer legend in Royal Air Force medal circles, and is all but unobtainable as an unattributed single. The vast majority of the small number of these historically important 1940 awards are, and will forever be covetously guarded by the families of the often famous recipients.

Even as a veteran RAF flying medal specialist of 43 years standing, I can still count the number of these I've had on the fingers of one hand. "THIS FINE GROUP IS DEDICATED TO THE MEMORY OF ALL THE VALIANT YOUNG PILOTS WHO, AGAINST OVERWHELMING ODDS, KEPT THIS COUNTRY FREE DURING THE LONG SUMMER OF 1940" ....

"Per Ardua Ad Astra"

GENUINE "DAILY EXPRESS" NEWSPAPER (15th July 1940) Stating we had shot down German aircraft at a rate of 9 to 1

"NEVER IN THE FIELD OF HUMAN CONFLICT WAS SO MUCH OWED BY SO MANY TO SO FEW"

It is therefore with much honour that we here list what is frankly an almost unrepeatable Battle of Britain group. The 'genuine' example of the 'Battle of Britain' clasp with this group is also ultra rare and is without doubt the singly most sought after 'spare' in the entire WW2 medal series. (*We also have a small number of Battle of Britain clasps available as singles") NOTE: If you have an original 'Battle of Britain' Pilot's Flying Log Book which has over the years lost its original 1940 Distinguished Flying Cross & its Battle of Britain clasp and other medals you may like to call us.

"TELEPHONE" ENQUIRIES ONLY. PRICE ON REQUEST . ........on 01342-870926

Thank you ....WITH QUALITY PART EXCHANGES WELCOME.