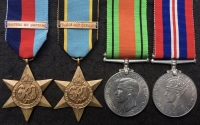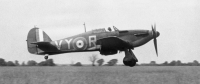 AN UNUSUAL & RARE

"BATTLE of BRITAIN"

(85 Squadron) "Hurricane" Pilot, & "Mosquito" Night Fighter Radar/Navigator, Aircrew Europe (France & Germany) Group of Six.To:

158315 Sergt- Flying Officer EARNEST REGINALD "REGGIE" WEBSTER. R.A.F.

[THE MEDALS]

1939-1945 Star ("Battle of Britain" clasp) Aircrew Europe Star (France & Germany clasp) Defence Medal War Medal Also Included Original Air Ministry brown card postage box of issue. & Original issue slip confirming the six entitlements. To:

F/O E.R. WEBSTER The Caravan, Oakley Farm, Priors Road, Cheltenham, Gloucester.

A Christmas Card, December 1939, from H.M. King George VI and Queen Elizabeth.

[BIOGRAPHY] 18th Sept 1917- Sept 1969.

Earnest Reginald Webster was born on 18th September 1917 and at age 21 joined the RAF(VR) in March 1939 as an Airman u/t Pilot. He was called up on 1st September 1939 and he completed his elementary flying training at 4 EFTS at RAF Brough, Yorkshire. He went on to 2 FTS at RAF Brize Norton for No. 44 Course, which ran for the six months from 11th December 1939 to 18th May 1940. Reggie Webster arrived at 6 OTU at RAF Sutton Bridge on 18th May 1940 and after converting onto Hurricanes he was posted to 85 Squadron at RAF Debden on 24th May 1940.

[85 SQUADRON]

No. 85 Squadron was one of the first fighter units to arrive in France on 9th September 1939 when it left RAF Debden as part of the BEF. It's primary role was to defend the Fairy Battle squadrons of the Advanced Air Striking Force, in the Rheims area, such as No.226 squadron (with which my own father, 616045 Sgt "Jack" Thomas, flew as a WOP/AG). When it was pretty clear that Hitler wasn't going to withdraw his troops from Poland, the battle squadrons of the AASF were immediately sent to France. 226 Squadron had been immediately rushed from RAF HARWELL to Rheims where they landed at about 3pm on the afternoon of Saturday 2nd September 1939. War was declared the next day. Then the "Phoney War" period commenced which continued until 10th May 1940 when "all hell" let loose with the start of the German Blitzkrieg. The airfield at Rheims was bombed and strafed by the Luftwaffe with the loss of several French airmen who were killed when a bomb hit a slit trench. Both the bomber squadrons of the AASF & the BEF fighter units sent to protect them then experienced a terrible mauling and sustained large losses at the hands of the Luftwaffe fighters during the Battle of France, with No.85 squadron losing 25 Hurricanes with 7 pilots killed during the 10 days between 10th and 20th of May. The squadron was thus withdrawn and returned to RAF Debden on 22nd May with several of its more experienced pilots dead. Sgt Reggie Webster joined the squadron from 6 OTU two days later at RAF Debden on 24th May 1940 as part of the much needed post Battle of France reinforcements. He served under the command of Sqd Ldr Peter Townsend throughout the Battle of Britain. The squadron was moved north to RAF Church Fenton on 5th September 1940 and switched to night fighter operations.

85 Squadron Operational Record Book. 12 October 1940

12 hours 35 minutes non-op flying consisting of formation and cloud flying. Practice squadron formation. The Pilots were: Sqdn Ldr Townsend, Flt Lt Marshall, FO Hemingway, Sgt Goodman, Sgt Webster, Sgt Berkeley, Sgt Gray, Flt Lt Allard, PO Thompson.

85 Squadron Operational Record Book. 16 October 1940

Order for one section to scramble. Flt Lt Marshall, Sgt Webster and Sgt Goodman took off 07.15 and landed 07.35. Conditions difficult owing to mist and low cloud at 300ft. 11 hours 40 mins non-op flying, consisting of a battle climb to 25,000 feet, fighter attacks, camera gun and aerobatics. POs A. Velebnovsky and E. Foit (Czechs) posted from 6 OTU. Sqdn Ldr Townsend accompanied by Fg Off T.J. Molony, motored to Speke to sit on court of enquiry. Sgt Johnson posted to 145 Squadron, Tangmere. Reggie Webster's time with 85 Squadron continued with service on the unit's Douglas Havoc Mk II Night fighters and from August 1942 he continued to serve on the new De Havilland Mosquito, making his first flight as Air Radar / Navigator with non other than the then Pilot Officer, Brance A. Burbridge who was to become the RAF's most famous and highest scoring night fighter ace of WW2.

[Picture No.1]

Left to Right. P/O JL Bickerdyke, F/O PP Woods-Scawen, F/O J Lockhart. F/O RHA Lee, Sgt. L Jowitt, F/Lt. Bieber(MO),

Sgt. ER Webster.

[Picture No.2]

Sgt E.R. Webster is pictured on the far left. Reggie Webster was one of the only pilots in these two pictures to survive the war. Sqd Ldr Peter Townsend is pictured centre of this 85 Squadron group picture along with his walking stick after the amputation of a toe following his bale out.

(Burbridge / Webster combat report)

AIR 50/36/167 3rd June 1942 Turbinlight Havoc I and Havoc II 2nd / 3rd June 1942. Sgt Webster was flying with P/O B.A. Burbridge in a Douglas Havoc II as A.I. Radar Operator with 85 Squadron "A" Flight from RAF HUNSDON. Up 23:59.....down 03:40

Air Interception Radar, (AI Mk. IV for short)

, was the world's first operational air-to-air radar system. Do 217 (Do17 derivative) over Canterbury at 9,000 ....destroyed Sqd Ldr Raphael, later to be the Commanding Officer, witnessed the kill. In 1942 the Luftwaffe began the so-called "Baedeker Blitz ", in retaliation for RAF Bomber Command attacks on German cities. The Luftwaffe bombed Ipswich, Poole and Canturbury on the night of the 2/3 June 1942. Near Canterbury, Burbridge claimed his first successes—a 'probable' Junkers Ju88 over Ipswich —at 03:30 on 2 June 1942. The following night, at 02:50, he destroyed a Dornier Do217 over Canterbury. Burbridge was guided to his targets by ground control interception which placed him within in a mile of the target aircraft. Then, the Air Radar Operator, Sgt Reggie Webster guided him to the target with the onboard A.I. Mk.IV set until the enemy a/c was in visual range. The kill took place over Canterbury at 9,000 ft and was witnessed by Sqd Ldr G.Raphael who saw the Dornier 217 going down in flames. (Combat report AIR 50/36/167 confirms)

[THE DH MOSQUITO from AUGUST 1942]

" NIGHT INTRUDER" OPERATIONS

In August 1942 the squadron began to convert onto the de Havilland Mosquito and it finally dispensed with the ineffective Havocs. On 15 August 1942 Burbridge made his first ever flight in a Mosquito aircraft with Sgt Reggie Webster acting as his Nav' & Radar Operator. Burbridge's first solo Mosquito flight was on 17 September 1942. By the end of the war Branse A. Burbridge was the RAF's most successful night-fighter pilot. Highly decorated, with DSO & Bar, DFC & Bar he had shot down 21 enemy aircraft, including four in one night over Germany. Reggie Webster was commissioned as Flying Office from Warrant Officer in October 1943. In the months after the D-Day landings and the Allied advance into France, No 85's role was to undertake bomber support operations over Germany. The Mosquito night fighter crews mingled with the RAF bomber streams seeking out enemy night fighters attempting to attack the bombers. They also flew "intruder missions" to strike enemy aircraft as they took off and landed at their home airfields in France & Germany. During a brief period in the summer of 1944, the squadron was also employed on patrols over Kent intercepting the incoming V-1 flying bombs. F/O Reggie Webster was released from the RAF in 1947. He died in September 1969 in Hull at the age of only 52. The Group which is in EF condition comes with its 'ultra rare' and original Battle of Britain clasp, with original box of issue and confirming issue slip and certification.NOTE: As the value of genuine Battle of Britain clasps continue their unstoppable rise, the price of groups like this will also inexorably rise. £6250 ENQUIRES & PART EXCHANGES WELCOME.