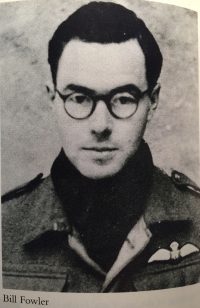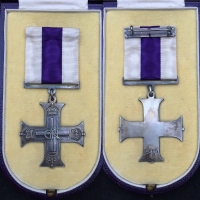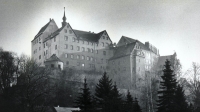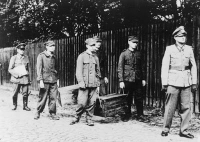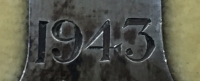 " ONE OF THE MOST IMPORTANT ROYAL AIR FORCE GALLANTRY MEDALS EVER OFFERED FOR SALE."


The Unique COLDITZ ESCAPER'S

ROYAL AIR FORCE

MILITARY CROSS,

A Unique Group of Three, Awarded to:

S/Ldr H. N. "Bill" FOWLER, M.C. No.3 & No.615 Sqd R.A.F.

(A Battle of France Hurricane Pilot with 3 Kills)

SHOT DOWN BY THE FAMOUS LUFWAFFE "ACE" WERNER MÖLDERS

who was flying a Bf 109 of JG53. The combat took place five miles north of Fumay, just inside the French - Belgian border. Mölders himself had just survived a bale out only the previous day.

MILITARY CROSS, LONDON GAZETTE, 14th DECEMBER 1943

The recommendation for Bill Fowler's Military Cross reads:

"This officer showed much skill and courage in his efforts to escape. Even though recaptured after the first attempt, this did not deter him from making a second, and this time a successful effort. This escape was from a camp specially reserved for officers who have either attempted to escape, or have otherwise given trouble to the Germans. The initiative and daring he displayed merits recognition and I strongly approve the War Office suggestion that he be awarded the M.C."

Hedley Nevile "Bill" Fowler was a 615 Squadron RAF Hurricane pilot who was shot down in France on 15th May 1940 during the Battle of France. He had been in France with his squadron as part of the B.E.F. since November of 1939 and had, like the Advanced Air Striking Force of mainly old and obsolete Fairey Battle bombers endured "the phoney war" period until the German "Blitzkrieg" began on 10th May 1940. Fowler had made his first 'kill' on 12th May 1940 when he shot down a Bf109. This was also the Squadron's first kill. He was also initially credited with shooting down a Dornier Do17 on 14th May 1940. This actually turned out to be a JU88a (7A+BH of 1(F)/121), which failed to return from a reconnaissance of Brussels-Courtrai-Ghent-Antwerp; Oblt Heinz Spillmann and his crew were killed. This was followed by the kill of another Bf 109 the next day, but during this same engagement he was bounced "out of the sun" and shot down by another Bf109. Three kills in three days was an outstanding performance for a pilot who was although himself an exceptional aviator only had very very few hours flying time on the Hurricane. He had only converted from the Gladiator nine days earlier on about 6th May so we estimate that in those few days he had accumulated a maximum of only about 12 hours experience on the Hurricane before going into combat. We feel confident in saying that had he not been so unlucky to fall so early in the battle to the guns of Werner Mölders that he himself would surely have become an Ace. With his victorious assailant being non other than Werner Molders the famous Luftwaffe JG53 fighter ace, Fowler was lucky to escape with his life....... This then is his story ! Hedley Nevile "Bill" Fowler is now immortalised as the famous Royal Air Force P.O.W. who having escaped from Stalag Luft 1 (Barth) in November 1940, then went on to make a spectacularly successful escape and "Home-Run" on 9th September 1942 from the famous "Escape Proof" P.O.W. CAMP, Oflag IVc at COLDITZ CASTLE. This is the officer who famously coined the term "Goons" as the name for the German Prison Camp Guards.

[ESCAPES FROM COLDITZ]

Despite its "escape proof" image, Colditz Castle witnessed 174 attempts by its troublesome and spirited inmates. However, only 32 men ever successfully escaped - and only half of these managed to escape from within the castle. Flt Lt Fowler was the Second of only SIX successful British "Home Run" escapers who made their exits from INSIDE Colditz castle.

A VERY SPECIAL NOTE on PROVENANCE

The currently listed medals, and their original Air Ministry medal box of issue with original associated papers and the other personal items of the late Squadron Leader H.N. "Bill" Fowler is the only genuine assembly extant. *We have been fully aware of the totally spurious "ghosted & cloned" group held by an Australian museum. That totally incorrect, bogus and 'made up' assembly which passed through two auction houses in 2006 & 2012 has now been kindly removed by the head curator from the Australian museum's web site"

[THE GROUP & THE ORIGINAL MAILING BOX OF ISSUE]

The unique, totally correct and genuine group of medals to Sqd Ldr H.N. Fowler which is here displayed by us is complete with its ORIGINAL & OFFICIALLY NAMED Air Ministry medal box of issue, containing what was Hedley Fowler's small but *FULL initial campaign medal 'pair' entitlement of just the 1939-45 Star & War Medal 1939-45. (*As a recipient of a gallantry medal, the late Sqd Ldr Fowler also has entitlement to the Defence Medal, but as normal, this was not sent with his original medal issue in 1948). The original medals and mailing box which we hold were sent to the family address in Hove, by the RAF medal records office at Insworth, Gloucestershire, on 26th September 1948 and were addressed to H.N. FOWLER, MC. ESQ , himself. This is quite normal as medals to deceased decorated officers were often addressed to the recipient himself rather than to next of kin.

[THE ORIGINAL AIR MINISTRY LETTER TO FOWLER's FATHER REGARDING HIS SON'S CORRECT MEDAL ENTITLEMENT]

Also present is the original named and addressed envelope and letter of correspondence (written 16th / sent 18th October 1951) Ref: S.7 (a)/NOK/106911, between the Air Ministry in London and his father, Commander M.T.B. Fowler, R.N. at the family address in Hove, with a full explanation regarding his late son's *non-entitlement* to the Aircrew Europe Star. *This official communication was in response to a letter of 27th September 1951 sent by the father enquiring as to his son's possible entitlement to an Aircrew Europe Star. The official Air Ministry reply clearly points out that as F/O Fowler flew all his operational sorties while based at airfields in France, he is not entitled to the Aircrew Europe Star. Also present is the family's original 8"x 10" uniformed portrait photograph of the very young and newly commissioned P/O Hedley Nevile Fowler RAF. This was taken in 1937 at age 21 and shows Hedley proudly wearing his officer's cap, best blue uniform & pilots wings. The photo was later touchingly draped with a black mourning ribbon by Mr Maxwell T.B. Fowler after his son's sad death during experimental test flying from Boscombe Down in 1944. Also included is Sqd Ldr Fowler's original RAF Pilots' Wing brevet and his original "pre-issue" M.C. & *39-45 star medal uniform ribbon tapes which are seen on the well known photograph taken of him at Boscombe Down airfield in 1944. (* as was normal during the war, these ribbon tapes were both issued to him well before the arrival of the actual 1939-45 star which he never saw. The M.C. ribbon arrived with him in 1943 and a full year before the actual posthumous presentation of his M.C. which was given to his parents at Buckingham Palace by King George VI in 1944.) All these original and fully confirming items come along with two matching and well polished officers' RAF brass uniform buttons. Also included is a small hand carved "scrimshaw" Scots Thistle. Clearly a Scots good luck talisman carved from a tiny section of deer antler. We believe this item was a gift from Scotland brought to Fowler's father in Hove by one of Hedley's fellow 615 squadron pilots. The squadron was posted to RAF Prestwick, Ayrshire on 29th August 1940 for a period of five weeks rest after its early participation in the Battle of Britain while based at RAF Kenley. The squadron was back at Kenley via Northolt in mid December 1940.

[BIOGRAPHY 1916-1944]

Hedley Nevile Fowler was born in Marylebone, London on 8th June 1916, the only child of Paymaster, Commander Maxwell Thomas Bourne Fowler, R.N. of Mytten, Sussex. (Died Hove, Sussex in 1954) and Mrs Florence Fowler (nee Ayers), born Adelaide, Australia 1877. The Fowler family were the owners of the Kingsway Hotel, Hove, near Brighton. Hedley's mother, Florence Fowler (nee Ayers) was a native Australian, and was the grand-daughter of the then Chief Secretary of South Australia, Sir Henry Ayers, in who's name 'Ayers Rock' was dedicated by the surveyor William Gosse after he first sighted this now famous national landmark on 19 July 1873. Shortly after his birth the family travelled back to Australia, and in 1924, when the young Hedley Fowler was eight years old, the family returned to England for his further education. This commenced at Malvern boarding school which was in preparation for his planned attendance at Rugby School. While he was at Malvern he won Junior and Senior cups for miniature rifle shooting. Moving to Rugby School in 1930 he was selected as cadet U-016 to shoot at Bisley and also joined the school shooting eight, which competed for the Ashburton Shield in both 1932 and 1933. He successfully attended Rugby school and on 19th September 1933 at age 17 he and his parents again returned to Australia on board S.S.ORMONDE which arrived at Fremantle with a final destination of Adelaide. He continued his education in Australia at St. Mark's College and Adelaide University (1934-35) where he joined the University Rifles and won two shooting cups. He then served in the Militia and joined the RAAF as an Air Cadet on 20th January 1936. He was awarded his Wings at No.1 FTS, Point Cook on 8th December 1936 obtaining a "Pass with Distinction" after gaining a mark of 82.4% and won the Mannock Cup for the best flyer of his course He then embarked Perth, (Fremantle) W.A. aboard HMS 'ORFORD' on 11th January 1937, accompanied by his parents on what turned out to be his final voyage back to England. On arrival here, he was granted a Short Service Commission in the RAF as Pilot Officer (5 years) with effect from 19th February 1937 as (S/No.39457) He then attended an Air Gunnery School (in East Anglia), with a great 'digger' friend and fellow Australian, 40043 P/O Leslie Redford CLISBY RAF (Australia). The two men were inseparable and became known as "The Diggers". Les Clisby DFC was to become an ace while serving in France with No.1 Squadron, but was sadly killed in action on 14th May 1940 when he was shot down.

[RAF POSTINGS]

Hedley Fowler was further trained at No 6 Flying Training School at Netheravon before being posted to No.3 Squadron on 22 May 1937. He then served as a fighter pilot with 615 Squadron being commanded by Squadron Leader Joseph Kayll flying the Gloster Gladiator. Having joined the Squadron on 3rd October 1939 he converted onto Hawker Hurricanes in early May 1940. As was the norm at the time, Fowler clearly only had a very few hours flying experience on the Hurricane before being thrown into the Battle of France against the experienced pilots of the Luftwaffe.

TO FRANCE (Mid November 1939) SHOT DOWN, 15th MAY 1940

For a 'rookie' Hurricane pilot Fowler performed remarkably well and made his first 'kill' in on 12th May 1940 when he shot down a Bf 109. This was also 615 Squadron's first kill in the Battle of France. He was also credited with shooting down a Dornier Do 17 on 14 May 1940. This was followed by another Bf 109 of JG53 on 15th May.

SHOT DOWN BY WERNER MÖLDERS

During this same engagement he was 'jumped' and shot down five miles north of Fumay, just inside the French - Belgian border by another Bf109 of JG53 which was almost certainly flown by the famous German Ace Werner Mölders, who himself had survived a bale out only the previous day. During the period of 10th May to 20th May 615 Squadron maintained 12 Gladiators, fully operational, for aerodrome defence and two of 615 Squadron's pilots were supplied to other aerodromes for this duty. The next day, the May 15th 'A' wing of 615 Squadron flew to Vitry where they refuelled and waited for further orders. They then joined with 5 Hurricanes from 'B' Flight of 607 Squadron to escort a dozen Blenheims which were to bomb bridges over the River Meuse. When they set out they were met by Bf110C and Bf109s from Stab. III/JG53. In the afternoon three patrols from 615 Squadron reported encounters with Hs126 reconnaissance machines. A section of Hurricanes carried out low-level patrol north-west of Gemblous at 15:00 attacking several German barrage balloons. After being hit, his Hurricane Mk1, P2622, caught fire and Hedley Fowler successfully bailed out and landed in the Ardennes Forest close to the West Bank of the River Meuse where he met some French soldiers retreating from the front line. However, the next day 16th May, after a long trek to the south west via ROCROI & RUMIGNY, he left this group and joined up with a party of French infantry with whom he got into a fire fight, but after running out of ammunition and being surrounded by a German armoured unit at BRUNEHAMEL was forced to surrender. He was then driven to Dulag Luft at Oberursel. This was a 300 mile journey via Luxembourg into Germany.

(PAGE 1 of FOWLER's LATER M.I.9, 8 Page ESCAPE REPORT of 26th March 1943 begins)

"On 15 May 1940, I was pilot of a Hurricane which took-off about 11:00 hours from Vitry-en-Artois, escorting bombers over Dinant. At approximately 11:45 hours I was shot down by Messerschmitt fighters about five miles north of Fumay, on the west bank of the River Meuse. My aircraft was on fire so I baled out and landed in a wood. I left my parachute in the middle of a bush and cut one of the panels out to bind round my head, which was bleeding. I had dropped my helmet on the way down and I was not wearing flying kit. My clothes were standard dress uniform, a khaki sidcot suit, and black flying boots. After landing I destroyed my pay book and personal letters, but kept my identity disc and a B.E.F. identity card. I threw away my pistol, which was of German make. I then started to walk west through thick woods. My aircraft had fallen in the forest on the east bank of the River Meuse. I walked for about five hours. Going was very rough and I took off my Sidcot suit and carried it. About 1700 hours I was resting by a tree when a French soldier jumped out of a bush and pointed a rifle at me. I speak a little French and he asked me whether I was a German. I showed him my B.E.F. identity card and convinced him that I was a British pilot. This Frenchman was one of six French sappers trying to rejoin their unit. With them I walked through woods to Rocroi. Here I left them and joined the remnants of a company of French infantry, commanded by a Sub. Lieutenant. They were much disorganised, and were retreating west"

A French Medical Officer with this group did at least manage to offer Fowler treatment for his cut head, but his freedom was to be short-lived for he was captured on the following day when cornered and fired upon by enemy troops near Brunehamel.

His full MI.6 / MI.9 debriefing and escape evasion report is in:

WO 208/3311 (Report No. 994) and is 8 pages long. On 21st May Fowler was then sent to Dulag Luft transit camp at Oberusel where for three weeks he was questioned and processed. On 5 June Fowler and nineteen other officers were sent to Oflag IIA (Prenzlau) a Polish camp near Stettin. They remained there for a month before being transferred to Stalag Luft 1 at Barth where they arrived on 5 July 1940.

FIRST ESCAPE ....FROM STALAG LUFT 1 (BARTH ) 5th November 1941.

It was while imprisoned at Stalag Luft 1 (Barth) that on 5th November 1941 he staged his first gallant escape attempt. He had been performing the duties of camp Red Cross Parcels Officer and had managed to cobble together a convincing looking German army uniform in which he simply marched out of the camp. Having then changed into civilian clothes, he made his way to the Baltic port of Sassnitz with the aim of gaining passage on the ferry to Sweden. Unfortunately on arrival at the docks he was questioned and asked for his papers by a German policeman, and after failing to produce any documents, he was arrested. He was returned to Barth where he spent 14 days in the solitary confinement "cooler" cells.

["GOONS" ....Fowler, The Inventor Of The Term.]

Peter Tunstall a fellow RAF escaper and Colditz resident claims that Fowler, whilst at Barth, was the first prisoner in WWII to use the term 'goons' to describe the guards. This was a reference to a well-known comic strip of the time which featured Popeye and the Goon family. Tunstall claims the term caught on like wildfire through all the prison camps in Germany. "Goons up" became a warning cry for approaching guards, "goon boxes" described the machine gun towers, any manmade uniforms used to escape were called "goon skins," and their favourite recreation of winding the guards up become known as "Goon Baiting"

[TO COLDITZ] Monday, 1st December 1941.

From Barth he was then sent to the infamous "escape proof" Oflag IV-c at Colditz Castle, arriving there on 1 December 1941.

GERMAN OFFICIAL I.D. PHOTO (1941) FROM THE COLDITZ MUSEUM COLLECTION.

Here he quickly established a successful rapport with his fellow officers and, if the following story is anything to go by, a less than happy relationship with his captors - Henry Chancellor's Colditz, The Definitive History, takes up the story of how Fowler turned to his advantage an infestation of wasps in a giant creeper which grew up one side of the Castle: "Bill Fowler, an RAF airman, caught a wasp, tied a thin thread to its waist and attached it to a rolled-up cigarette paper. Bill's idea was that, since leaflets were being dropped by the R.A.F. all over Germany, it was up to us to play our part. Hundreds of wasps were caught and to each was attached a cigarette paper with the message Deutschland Kaput. The French, never to be outdone, also caught a large number of wasps, tied a little square of paper to each, put them in matchboxes and released them together on parade. It was like a reversed snowstorm with the wasps flying upwards in furious mood. Pandemonium raged with all of us warding off the angry wasps, or pretending to."

[THE ARRIVAL OF DOUGLAS BADER at COLDITZ, 18th August 1942.]

Douglas Bader arrived at Colditz on 18th August 1942 and was introduced to all the RAF residents including Bill Fowler. Although Bader's and Fowler's period of incarceration in Colditz only overlapped by 22 days its obvious that Bader's anti-German activities were immediately established as Fowler was able to describe them on Page 5 of his MI9 escape report of 28th March 1943.

THE ESCAPE FROM COLDITZ (Wednesday, 9th September 1942)

"THE CLOTHING STORE ESCAPE"

Of Fowler's subsequent escape, Colditz, The Full Story, by Major P. R. "Pat" Reid, M.B.E., M.C., states: "Things were hotting up for the new German Kommandant. On 9th September, ten officers were found to be missing after the morning roll-call had been delayed - the count fudged, the parade recounted, dismissed and recalled - while Hauptmann Priem raged up and down the ranks. An identity check of all the P.O.Ws had to be instituted to confirm who exactly had got away, this took several hours. The 'confusion' ploy was used because there was no way of properly concealing a number of absentees at one time. The escape plan had arisen one hot day in August 1942. Captain "Lulu" Lawton complained to me that a half-starved rat couldn't find a hole big enough to squeeze through to escape from Colditz. If only, he lamented, he could think of a way. I told him to look for the enemy's weakest point. Thinking aloud, I said, "I should say it's Gephard's own office. Nobody will ever look for an escape attempt being hatched in the German R.S.M's office."

Lt Damiaem Van DOORNINCK (The Dutch Key Maker & Locksmith King)

GERMAN OFFICIAL I.D. PHOTO FROM THE COLDITZ MUSEUM COLLECTION.

Lulu Lawson procured the services of the red-bearded Lieutenant van Doorninck to manufacture, with formidable skill, **a key to the intricate cruciform lock on the door of Gephard's office. **Lt van Doorninck was a highly talented watch & clock repairer. His great talents with mechanically intricate mechanisms came in very useful as he invented a brilliant device which, when attached to a micrometer, could be used to obtain internal measurements accurate to within a tenth of a millimetre when inserted into a cruciform lock. He was therefore able to manufacture a key to fit any such lock in Colditz. He lectured other prisoners on how to use this device correctly, a course that lasted six months. The plan evolved and Lulu teamed up with Flight Lieutenant "Bill" Fowler, who made up a foursome with van Doorninck and another Dutchman. Dick Howe, as the new British escape officer, was in charge.

[THE SMALL OUTSIDE STORE ROOM NEXT TO THE SENIOR N.C.O.s OFFICE] "click photo to enlarge"

"I inspected the office. I saw that it was possible to rip up the floor under Gephard's desk, pierce a wall eighteen inches thick, and have entry into a storeroom outside and below the office. From here, simply by unlocking the door, the escapers would walk out on to the sentry path surrounding the Castle. The plan was based on the fact that German N.C.Os occasionally came to the storeroom with Polish P.O.Ws who were working in the town of Colditz. They brought and removed stores, etc., arriving at irregular hours, mostly in the mornings, sometimes as early as 7am and seldom coming more than twice a week. The escape party was increased to a total of six. Two more officers were therefore selected. They were "Stooge" Wardle and Lieutenant Dunkers, a Dutchman. It was arranged that Lulu should travel with the second Dutchman and Bill Fowler with van Doorninck. Sentries were changed at 7am so the plan was made accordingly. Van Doorninck, who spoke German fluently, would become a senior German N.C.O. and Donkers would be a German private. The other four would be Polish orderlies. They would issue from the storeroom shortly after 7am Van Doorninck would lock up after him. The four orderlies would carry two large wooden boxes between them, the German private bringing up the rear. They would walk along the sentry path past two sentries, to a gate in the barbed wire, where van Doorninck would order a third sentry to unlock and let them pass. The sentries - with luck - would assume that a 'fatigue' party had gone to the storeroom shortly before 7. a.m. Once through the barbed wire the party would proceed downhill along the roadway which went towards the park. The plan necessitated the making of two large boxes in sections so that they could be passed through the hole in the storeroom, and yet of such construction that they should be very quickly reassembled. This escape was a blitz job. The hole would be ready in a matter of three days. Experience was proving that long-term jobs involved too much risk of discovery. The hole was duly made, leaving a little to be knocked out at the last moment. The evening before the "off" (8th September) the six escapers, with myself and Lieutenant Derek Gill (who had been helping me dig the hole), were locked in Gephard's office. At midnight there was an alarm. Germans were unlocking doors and the voice of Priem was heard in the corridor. He approached Gephard's office. The night-duty N.C.O. asked: "Shall I open this door Herr Hauptmann?" "Yes, indeed, I wish to check everything," answered Priem. "It is the office of Oberstabsfeldwebel Gephard, Herr Hauptmann." "Never mind.... Open!" came the reply. There was a loud noise of keys and then Priem's voice: "Ah, of course, Herr Gephard has many locks on his door. I had forgotten. Do not open, it is safe." Between 3am and 6am we finished off the hole and carefully conveyed the men and their equipment through. Derek and I then left the office having patched up the hole. A little later Dick Howe reported a perfect take-off. The morning Appell at 8:30 am was going to cause trouble. By now, Dick had temporarily run out of inspiration. The Dutch dummies were no more. He might manage to conceal one absence, but six was an impossibility. So he did the obvious thing. He decided to lay in a reserve of spare officers for future escapes. Four officers were concealed in various parts of the Castle. There would be ten missing from the Appell. With luck the four hidden in the Castle would become "ghosts". They would appear no more at Appells and would fill in blanks on future escapes. The idea was not unknown to the Germans, but it was worth trying. The 9am Appell mustered and, in due course, ten bodies were reported missing. By 11am he Germans had discovered the four ghosts and were beginning to conclude, after their first impression that a joke was being played on them, that six men had in fact escaped. Dick was satisfied at having increased the start of the six escapers by a further three hours. Later in the day the Jerries, after questioning all sentries, had suspected the fatigue party, and working backwards to the store room, had discovered the hole. There was much laughter, even among the Jerries, at the expense of Gephard, under whose desk the escape had been made! The reader can imagine the disappointment and fury of Priem at the escapers having eluded his grasp so narrowly during the night! The escape party of six had marched to the nearby woods where they destroyed their various fake uniforms and donned civilian clothes. Fowler's "civilian" outfit was made from a converted Naval jacket, RAF trousers and a workman's peaked cap made from an RAF officer's dress cap. He carried a small attaché case containing shaving kit and tooth brush. His forged identity papers stated that he was a Belgian workman who was on 14 days leave with permission to travel on the railway. As an extra precaution he carried a document which stated that he been granted permission to visit friends in the Swiss frontier zone; this he did not intend to show unless compelled by circumstances. Then they split into three Anglo-Dutch pairs, Fowler going with Van Doorninck and heading for Switzerland via Stuttgart. Fowler and Van Doorninck walked hard the 31 kms south via Rocklitz to Penig where they caught a train via Zwickau to Plauen and then later that evening, another train to Stuttgart where they stayed overnight at a hotel. Next day they went on to Tuttlingen and walked the final 25 or so kilometres to the Swiss border, crossing near Ramsen in the early hours of 13th September. After a few days of questioning by the Swiss, the two escapers were sent to Berne where they reported to their respective Legations. Fowler later learned that the other four escapers had been caught a few miles from the camp. Geoffrey Wardle and his Dutch colleague, Lieutenant Donkers, had been unlucky. They were recaught and back in the Castle before the tumult of the roll-call was over. They were noticed by the Burgermeister of a nearby village called Commichau as they passed through. He knew everybody in the village and immediately became suspicious. A local peasant woman found a number of discarded uniforms in a nearby wood and reported this at once. Thus the Germans knew that more than two had escaped. Eventually, they established the correct number at six. Lulu Lawton and Ted Beets were accosted and arrested at Dobeln railway station later in the day. Meanwhile van Doorninck and Bill Fowler carried on and reached Switzerland safely eighty-seven hours after leaving Colditz.

AN ENCOUNTER WITH THE GESTAPO

But their journey to Switzerland was not without moments of drama, as described in the following extract from Henry Chancellor's Colditz, The Definitive History: 'Van Doorninck was posing as a German architecture student, and Fowler as a Belgian forced labourer. They had already agreed their cover story: they had met by chance, and when they discovered they were going to the same place, they had decided to travel together. They encountered few problems on their journey to the Swiss border, for they were following Larive and Steinmetz's well-documented route. Van Doorninck was so confident that he knew exactly how to cross the Ramsen salient and enter Switzerland that he was prepared to risk recapture in order to help the men they had left behind in Colditz. Before he left the castle, van den Heuvel, the Dutch Escape Officer, had asked van Doorninck to find out if special permits were required near the Swiss frontier. There was only one way he could obtain the information: he had to ask a policeman. It was a dangerous mission and it could very easily result in recapture; van Doorninck did not tell Fowler that he intended to carry it out. On a small country road south of Singen, the two men came across a pub beside a stream. There was a motorbike parked outside it. 'I knew that motorbikes in Germany were only used by the Gestapo and other policemen,' recalls van Doorninck. 'If I had not given my promise to van den Heuvel we would have hidden in the wood near by until the bike owner had gone. But this was an ideal opportunity to be confronted by a Gestapo chap at a spot very near the Swiss border, without arousing too much suspicion. Bill's papers stated that he was permitted to spend leave at a farm near Hilsingen - allegedly. Belgian friends of his were working there under a forced labour scheme. We entered the pub and there indeed was a Gestapo man, taking the fingerprints of the barmaid. The law stated that all people working in public places near the border had to be finger-printed. He gave us a searching glance as we came in, and as soon as he had finished with the barmaid, he came straight over to our table. "Have you any papers" he asked. "Of course," I replied, and handed him my Dutch passport - the only document I had. After careful scrutiny, he handed it back to me. "That's in order," he said.' Van Doorninck told Fowler in French that the Gestapo wanted to see his papers. Fowler handed over his identity card and the special leave document - both forgeries made at Colditz. The Gestapo man inspected them, and handed them back; he was perfectly satisfied. But when he left their table van Doorninck got up and pulled him aside. 'I said that I had found Bill on the platform at Tuttlingen, where he was at a complete loss, because he could speak no German. I told him I had taken it on myself to bring him to what he said was his destination; I asked the Gestapo man whether Bill's story was true, as I did not, of course, want to do anything that would harm the Reich. He said the papers confirmed the story Bill had told me.' Fowler sat drinking his beer; he did not realise that van Doorninck had put his liberty at risk - but at least he had discovered that no special permit was required near the border. That night, 13th September 1942, both men crossed safely into Switzerland.' Yet Fowler's "home-run" was far from over, for, after resting in the care of British consulate staff in Switzerland, he had to make the onward journey to Spain, via France: Bill Fowler and Ronnie Littledale were the first of the Colditz colony in Switzerland to leave. They crossed the Swiss frontier into France on 25th January 1943. The British consular staff in Geneva arranged this crossing at Annemasse. A guide took them in hand. They crossed the Spanish frontier on 30th January. They marched the whole day, reaching the La Junqueras-Figueras road at 4pm and, while crossing it, they were arrested by Spanish soldiers who were patrolling the district in a lorry picking up the numerous refugees in the neighbourhood. They seemed familiar with this routine and were not even armed. They were taken to Figueras, where their heads were shaved and they were innoculated (Bill was tenth in line for the same needle). They were locked up in a cell with fourteen other men for almost three weeks. There was no furniture and little light; a single bucket, removed once every twenty-four hours, was provided for all natural functions. Prisoners were sick intermittently all day long. Two men died. Not until 22nd February were they turned over to the British consul in Barcelona from where he travelled to Gibraltar, arriving on 25 March 1943. Bill returned to the UK the next day with an arrival at RAF Hendon on Friday, 26th March 1943. For his successful escape he was awarded the Military Cross which was gazetted on 14 December 1943.

[THE ESCAPE ROUTE] 9th September 1942 –- 26th March 1943

Fowler's full escape route was described during his debrief to M.I.9 when he arrived at RAF Hendon. Here are the incredible details of how he and the Dutch Officer Van Doorninck got out of Germany. 9th September 1942. "ESCAPED FROM COLDITZ CASTLE" 9th September 1942. ROCHLITZ - PENIG (on foot 31 km) 9th September 1942. PENIG - (ZWICKAU) - PLAUEN - (by train at 21:00hrs) 9th September 1942. PLAUEN - HOG - VANBACH - WURZBERG. (by train) 10th September 1942. STUTTGART (20:30) 10th September 1942. MUHRINGEN (S.E. STUTTGART) spent night at small hotel. 10th September 1942. VALHINGEN - TITTLINGEN - HERRENBURG - EHRINGEN - HILZINGEN.

INTO SWITZERLAND

13th SEPTEMBER 1942. RAMSEN (CROSSED THE SWISS BORDER INTO SWITZERLAND) 14th SEPTEMBER 1942. SCHAFFENHAUSEN (Questioning by Swiss Authorities) 18th SEPTEMBER 1942. BERN (British Legation)

INTO SPAIN

30th JANUARY 1943. LA JUNQUERA (crosses border into Spain) 30th JANUARY 1943. LA JUNQUERA - FIGUERAS ROAD (arrested by Spanish Soldiers) 30/31st JANUARY 43. FIGUERAS (detained in Military Prison - Reception) 1st FEBRUARY. 1943 FIGUERAS (detained in Central Prison in very poor conditions, three weeks) 22nd FEBRUARY 43. BARCELONA (British Consulate) 18th MARCH 1943. ALHAMA DE ARAGON (Hotel) 24th MARCH 1943. MADRID - SEVILLE

GIBRALTAR

25th MARCH 1943 GIBRALTAR 27th MARCH 1943. LEFT GIBRALTAR ( by Air to RAF Hendon) 28th MARCH 1943. ARRIVED R.A.F. HENDON. 28th MARCH 1943 Interview with M.I.6 29th MARCH 1943 Debrief by M.I.9 30th MARCH 1943 Seen by P.W. 2 (a)

The Enemy's Viewpoint of this escape.

An illuminating account of the enemy's reaction to Fowler's escape is to be found in the memoirs of Hauptmann Reinhold Eggers, Colditz, The German Story, who served as a Duty (and later Security) Officer at Colditz throughout the War: 'Security now had to discover how these officers had made their escape from Colditz. We searched, and re-searched, and in the end, after lengthy questioning of the sentries, we found how it was done. The six, disguised as a German officer and N.C.O. in charge of apparently four Polish orderlies, had come out of a storeroom on the north side of the castle, just after the guard had been changed in the early morning. But how had they got into the store? The sentries naturally thought that they had gone in by the outside door (the one they came out of), shortly before they, the sentries, had been changed. We discovered that, in point of fact, they had got in from our Sergeant-Major's office on the inner side of the castle. The exit hole was actually dug under "Mussolini's" table! His office was entered from a corridor leading from the north-west corner of the prisoners' yard to the hospital. The hole had been enlarged night after night, and covered up each morning before it was time for an accomplice to let these night shift workers out! There must have been a great deal of assistance given by way of watching the sentries round the outside of the building, and also by keeping an eye and ear open for sudden interruptions by the Riot Squad. This "stooging", as this type of P.O.W. surveillance was called, was probably carried on either from above "Mussolini's" office, or from the infirmary across the corridor. Our locks were no damn good, nor our damn sentries either. To make things worse, we found that a gate had actually been unlocked for the party, as they made their way towards the road, by one of our own N.C.Os. This ass had asked them, "Are you going to Zschadrass?" The answer was, "Yes" - "Then I will open the gate door for you" - which the soldier did. They may have had a false key but it didn't follow that it was going to work, and the arrival of this N.C.O. with the proper key was a godsend. He thought they were taking spare clothing to the loony bin.......We told him that's where he ought to be himself!'

Later Service, Lecturing and his sad death as a Test Pilot

Fowler reached Gibraltar on Thursday, 25th March 1943, was flown home to Hendon and "debriefed" by M19 the following day. He then called his father to say he was "safe" ...M19 were particularly impressed by his behind enemy lines adventures with the result that they employed him on lecturing duties on escape and evasion tactics for fellow aircrew - and recommend him for the award of the Military Cross. However, Fowler quickly grew bored and begged to be allowed to return to flying, a request that was eventually met by his appointment as a test pilot for the Typhoon fighter-bomber flying out of Boscombe Down. It was while so employed at Crickel Down Bombing Range, on 26 March 1944, while carrying out dive-bombing trials designed to find a weapon against German tanks for D-Day , the forthcoming Allied invasion of Europe, that he was killed - He was flying Typhoon Mk1b JR307 and was doing dive-bombing trials dropping 500lb bombs in dives from 10,000ft to a release point at 4,000ft. On climb-out, his aircraft broke up after the possible loss of its tail unit. The aircraft came down 3 miles north of Crickel Down Bombing Range, near Tarrant Rushton Airfield at approximately 15:00 hours. The notes found on the pad strapped to his knee helped to resolve some of the initial problems with this aircraft type. He was 27 years of age at the time of his death, and it was exactly a year to the day since he had arrived back in England after his escape from Colditz. In 1944 his parents met King George VI to receive the Military Cross which was awarded to their late son for his escape from Colditz. HEDLEY FOWLER RESTS WITH ETERNAL HONOUR IN DURRINGTON CEMETERY, Near SALISBURY. This is just a few miles from RAF Boscombe Down, from where he took off on his final flight in his Typhoon Fighter Bomber on a rocket weapon trials prior to D-Day. [HIS GRAVE DEDICATION READS].....

"HE FLEW TOWARDS THE SUN AND LEFT THE VIVID AIR SIGNED WITH HIS HONOUR"

We visited his resting place on Sunday 19th September 2021 to find that his plot has been renewed with a solid white marble headstone. We placed a dedicated Memorial Poppy Cross in his memory. "

"THE BOLDEST WAY BEING THE SAFEST"

He made his exit from Colditz via a hole dug through the floor planking covered by a rug right under the office desk of the castle's senior German N.C.O.....An escape route that caused even the Germans some amusement. Oh yes! ....and by the way ! ....he didn't wear glasses....he was a young fighter pilot with eyes like a hawk. He only put these specs on during his official camp photography session, so he would look different, and in the event he escaped they might be looking for a man wearing spectacles !! .

"THE R.A.F..... ALWAYS ONE STEP AHEAD OF THE COMMON HERD"

A UNIQUE & HISTORICALLY MOST IMPORTANT ASSEMBLY OF THE GREATEST RARITY.

[THE FATHER, Commander M.T.B. FOWLER, R.N. ]

Maxwell Thomas Bourne Fowler entered the Royal Navy as a Clerk in January 1894, his first seagoing appointment being aboard the cruiser H.M.S. St. George, aboard which ship he served as an Assistant Pay-Master and Secretary's Clerk under Rear-Admiral H.H. Rawson, C.B., and was present at the bombardment of the Sultan of Zanzibar's palace in August 1896, but not in the subsequent Benin operations. A Pay-Master Commander by the outbreak of hostilities in August 1914, he served in the battleship Illustrious until late 1915, when he removed to the Neptune, in which ship he was present at Jutland in the following year. He was placed on the Retired List in 1920 and is shown on the 1939 pre-war reference roll as a 'retired naval officer' living at 48-51 Clarence Parade, Portsmouth. He died at the family home at Hove,Brighton in 1953. IF YOU ARE LOOKING TO BUY SOMETHING SERIOUSLY IMPORTANT & A UNIQUELY HISTORICALLY SPECTACULAR GROUP, BUY THIS............THIS IS THE ONLY ROYAL AIR FORCE OFFICER'S COLDITZ ESCAPER'S GALLANTRY AWARD THAT WILL EVER COME UP FOR SALE.......AND IF YOU ARE A SERIOUS BUYER, YOU WILL NEVER SPEND A BETTER PENNY IN ALL YOUR LIFE. Serious Enquiries Only Please.........On 01342-870926 ......Quality part exchanges are always welcome....