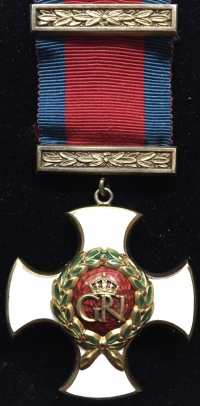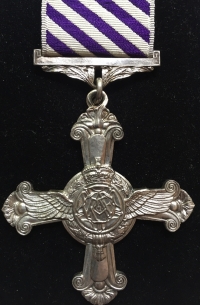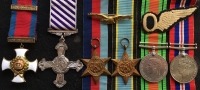 A MAGNIFICENT (PEENEMUNDE)V1 & V2 FLYING BOMB "DOUBLE GALLANTRY" (CASUALTY) GROUP OF SIX

DISTINGUISHED SERVICE ORDER,

"IMMEDIATE" (1944)

DISTINGUISHED FLYING CROSS,

(1943) (LANCASTER, PATHFINDER MASTER BOMBER) "MID-AIR COLLISION CASUALTY" An Irvin Caterpillar Club Member with 62 Sorties. To:

Squadron Leader (Nav) John Baker. RAF(VR)

35 Sqd RAF, 405 Sqd RCAF, & 7 Sqd, RAF.

KILLED IN ACTION 20th MAY 1944. Lancaster Master Bomber. Collided with Deputy Master Bomber over Le Mans.

"A Unique, and Superb Lancaster Pathfinder Force "Master Bomber" (Casualty). A Group of Truly Outstanding Historical Importance, complete with Original 62 Sortie Log Book containing Raid Photographs, Original Documents and a Totally Exceptional & Highly Detailed Professional Research File tracing John Bakers life history. A True Bomber Command Classic to a man with an extraordinary story."

[BIOGRAPHY]

John Baker was born on 11th August 1915, at Wednesbury, Staffs and was one of the nine children of John Goodger Baker,1883-1924 (Bilston) and Mary Helena Baker (nee Hayward) a seamstress and shirt maker 1883-1949 (Suffolk). The couple married in Willenhall, Staffs in May 1904. They originally resided at 114 Newhall Street in 1915, then at Back 120 King's Hill, Wednesbury, with a later move to Franchise Street. John's father was an engineer fitter, being a foreman engineer when he died due to an accident at work in 1924. He was working at Joseph Platts, King's Hill, Wednesbury. The young John Baker was educated at the Royal Orphanage School in Wolverhampton, being sponsored by a relative or trust after his father's death, going there at the age of nine, his mother being left with seven dependent children, one of whom was born after her husband's death.

[INTO THE ARMY]

Upon leaving school, John decided on a military life with an enlistment on 27th August 1932 at age 17 as, 822423, Gunner J. Baker, Royal Artillery. Promoted to Lance Bombardier on 9th February 1935 and to Bombardier on 1st November 1937. On 26th August 1938, having completed six years' service, he was transferred to the Royal Artillery Reserve. Returning to civilian life in 1939 John was living at 38 Franchise Street, Wednesbury with his mother and four of his siblings while working as a wages clerk for F.H. Lloyds (Ironfounders) at their James Bridge Steel Works in Darlaston.

[THE OUTBREAK OF WW2 , 3rd SEPTEMBER 1939 & THE EVACUATION FROM DUNKIRK]

On the outbreak of war John was recalled to the army and joined the 53rd (Worcestershire Yeomanry) Anti-Tank Regiment R.A. which was equipped with 2 pounder anti-tank guns. In January 1940 the regiment joined the BEF on the border of France and Belgium. When the expected German assault on France began on 10th May, John's unit went into action and was credited with destroying more German tanks than any other anti-tank battery. It fought bravely until 30th May when it found itself pinned down in ditches by heavy German artillery fire. The C.O. and adjutant were both killed in the fighting. Delayed orders to destroy all equipment and escape on foot to Dunkirk were received 24 hours late, which gave the enemy a significant advantage. However, 5 officers and 284 men of 53rd Regt were rescued from the beaches of Dunkirk in Operation Dynamo, including John Baker. Many other men were left behind in France either dead or as prisoners. Upon his return to the U.K. John and his unit continued with defensive training in the north of England in preparation for the expected German invasion. John was however clearly becoming frustrated by the lack of action and elected to volunteer for Aircrew service with the Royal Air Force.

[INTO THE ROYAL AIR FORCE, Transferred w.e.f. 7th June 1941]

John joined the RAF as 657402 Aircraftman 2nd Class / Aircrafthand / General Duties RAF(VR). Being an obviously keen and dynamic personality he clearly rose quickly through the ranks and obtained a commission. Pilot Officer: 12.5.1942 Flying Officer: 12.10.1942 Act Flt/Lt: 12.11.1942 P.F.F. Badge. 29.9.1942 Act Sqd Ldr. 27.4.1944 Aircrew Selection Centre. Initial Training Wing. No.3 Observers School. 10.5.1941 Station HQ. Linton-on-Ouse 11.5.1942 No.35 Squadron, Linton.(No.4 Group) 16.6.1942 No.35 Squadron, Graveley. (PFF) 15.8.1942 No.405 Squadron. (RCAF). Gransden Lodge (PFF) 6.9.1943 No.7 Squadron. Oakington, (PFF) 1.5.1944 KILLED IN ACTION 20.5.1944

[PATHFINDER BADGE AWARD, 29th SEPTEMBER 1942]

This very early award of the coveted Pathfinder Badge was made before the introduction of the later larger Pathfinder certificate and is confirmed by the early official letter of award. As with the later certificate it was also individually hand signed by the Pathfinder Force boss, the infamous Air Marshall Donald "Bingo" Bennett.

[DISTINGUISHED FLYING CROSS, 1943]

London Gazette, 11th June 1943. Private contemporary naming:

S/LDR. J.BAKER.DSO.DFC. 62 OPS: INC PEENEMUNDE. 17/8/43

Officially Engraved 1943

THE D.F.C. CITATION READS.

" During the many night operations this officer has been engaged upon, his work as navigator has been conspicuous for its skill and determination. He had guided his captain through the enemy defences to release his bombs with unvarying accuracy, achieving excellent results. An outstanding observer, Flight Lieutenant Baker has set a splendid example to his fellow navigators.

[DISTINGUISHED SERVICE ORDER, 1944]

A Rare "Immediate / Posthumous" Award. London Gazette, 9th June 1944. Rear of Ribbon Bar Officially Engraved 1944

THE D.S.O. CITATION READS.

" This officer has participated in a very large number of sorties, involving attacks on a wide range of well defended enemy targets. He is a fearless and devoted member of aircraft crew, whose determination to bomb his targets accurately has won him great success. In the air and on the ground his conduct has been exemplary and he had set the finest example of devotion to duty, never sparing himself in his efforts to strike at the enemy at every opportunity." (John's Four Campaign Medals were Privately Impressed after the war by the 'Boots the Chemists' medal naming service.)

[THE IRVIN CATERPILLAR CLUB .....After A Lucky Escape !]

On the night of 13th July 1942 John Baker and his crew left RAF Linton in Halifax W.7761 (TL-N) at 00:12 on a sortie of 5hrs and 10 minutes during which they bombed the German target of DUISBERG. However, the bomb release mechanism partially failed over the target and a full release was not effected with the result that a 4,000lb 'cookie' bomb was still 'hung up' in the bomb bay. Despite the application of several different techniques it refused to leave the aircraft. The machine was thus flown home to the U.K. with the bomb still on board. However, as the risk of explosion was considered far too great it was decided that an attempted landing was out of the question. As a result, the aircraft was abandoned at about 05:00am between Harrogate and Knaresborough where it was seen to roll over onto its back before catching fire and crashing onto farmland at Burn Bridge, Brackenthwaite. The 4,000lb bomb became detached from the aircraft a few seconds before impact and exploded about 1 mile from the crash site. All seven crew members made successful descents by parachute. John Baker and his fellows thus became members of the caterpillar club by saving their lives by parachute.

[THE PEENEMUNDE RAID. 17th AUGUST 1943]

John Baker took part in this famous raid in Halifax JB786 (G) of 35 Squadron. The sortie was of 7hrs 15mins duration and was to be his last sortie with this unit before his transfer to 405 Sqd RCAF at Gransden Lodge. The famous raid on PEENEMUNDE was one of the most important air attack's of WW2. At this previously anonymous and unknown wilderness site, the Germans were working on the design and production of their V1 & V2 'revenge weapons'. It was thus critical that this extensive complex of laboratories, workshops and accommodation barracks be totally destroyed as soon as possible. The raid did not just target the scientific hardware and rocketry, but was critically aimed at the skilled scientists and engineers who were working on this lethal enemy programme. These key staff members were directly targeted at night in their sleeping accommodation. It was for this purpose that the raid commenced in the early hours of the morning while most were asleep in their rooms.

[JOHN's FINAL RAID. THE RAILWAY MARSHALLING YARDS at LE MANS. 19/20 May 1944, "MASTER BOMBER"]

John's final sortie was a critically important attack on the Le Mans railway marshalling yards where S.O.E. intelligence had reported the positioning of many V1 flying bombs on railway rolling stock at Le Mans which were due to be transported to many launch sites around France. This distribution had to be stopped. Their aircraft, Lancaster ND845 (MG-C) left RAF Oakington at 22:22 hrs on 19th May 1944. To that date their aircraft had flown for a total of just 58hours, which equates to about 9 sorties. After an initially uneventful flight and at the start of his role of Master Bomber at the target, John was heard giving directions to the oncoming bomber stream, when suddenly all communication ceased. At the same instant, there was a similar and abrupt communication cessation from the other Lancaster JB653 (MG-R) of the deputy master bomber. Both aircraft were over Le Mans and although for obvious propaganda reasons enemy reports initially claimed they were shot down by flak, it's now become clear that the two Lancasters collided over the target. As John was new to 7 Squadron and only on his third master bomber sortie, he was flying as 2nd Pilot to W/C Barron, and was the 8th crew member in ND845 that night. The other aircraft JB653 carried the normal 7 crewmen, with the result that all 15 men were lost. This was a major blow to 7 Squadron and to the entire Pathfinder force. John Baker is remembered with eternal honour at Le Mans West Cemetery. His headstone epitaph reads: "JOHN, DEAR HUSBAND OF PRUE. DADDY OF TEDDY.

HE GAVE HIS LIFE TO HELP KEEP ENGLAND FREE".

R.I.P. "A Unique, and Superb Pathfinder Force "Master Bomber" (Casualty). A Group of Truly Outstanding Historical Importance. With the Original 62 Sortie Log Book, Photographs and Original Documents including John Baker's commission scroll, pathfinder appointment letter and badge, numbered medal issue slip & A.M. condolence note. The group comes with a Totally Exceptional & Highly Detailed Professional Research File....this is a True Bomber Command Classic to a man with an extraordinary story"

(SOLD) With part-exchanges welcome.

*

(SPECIAL NOTE)

As an incredible coincidence, on a following listing, we are able to offer this magnificent DFC & Bar group of a fellow navigator who was also a Navigator Observer on 7 Squadron who took part in the same fatal Le Mans raid, and others, as John Baker DSO, DFC. The two men obviously knew each other and would have shared the same briefing prior to the raid.

"PER ARDVA AD ASTRA" LEST WE FORGET.