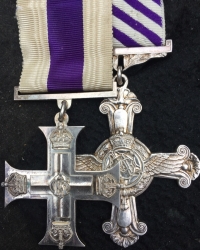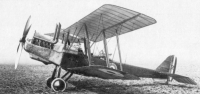 A MAGNIFICENT

"DOUBLE GALLANTRY"

MILITARY CROSS, DISTINGUISHED FLYING CROSS, "KURDISTAN", ORDER OF THE CROWN (Belgium) 9th Devons, Royal Flying Corps & Royal Air Force, Group of Eight. To:

2/Lt - Sqd Ldr, E.L. BARRINGTON. 9th DEVONS & No's 1, 4, 7, 14, & 70 Squadrons RFC & RAF.

(Observer, later Pilot) RE8's. Twice Wounded in Action. Served in the Great War, Palestine, Kurdistan & World War II

[THE MEDALS]

MILITARY CROSS. (GV) LG. 26.5.17 & DISTINGUISHED FLYING CROSS (GV) 10.10.19. War Medal (Officially Impressed)

LIEUT. E.L. BARRINGTON. R.A.F.

Victory Medal (*Officially re-impressed over original naming)

LIEUT. E.L. BARRINGTON. R.A.F.

General Service Medal (GV) "KURDISTAN" (Officially Impressed)

F/O. E.L. BARRINGTON. R.A.F.

Defence Medal. War Medal. Order of the Crown (Belgium) [*NOTE] The Victory medal has been officially re-impressed. After much detailed inspection it becomes very clear that this is in fact the original Victory medal which was first issued with incorrect naming. Very clear traces of the original lettering impressment are still clearly visible under the current naming, particularly of the original letters A & R in BARRINGTON.

[MILITARY CROSS. (GV) London Gazette 26.5.17.]

Temp. 2nd Lt Edward Leslie Barrington, Devon R.

"For conspicuous gallantry and devotion to duty. He succeeded in establishing telephone communication with the front line almost immediately the objective was reached. He set a splendid example of courage and determination".

[BIOGRAPHY]

Edward Leslie Barrington was born on 23rd January 1895 and was resident in Dawlish, Devon. His first contact with the military was at school with the Blundell's School O.T.C. where as a young cadet he served as a lance corporal for just over three years from January 1909 (14) to April 1912 (17). At the outbreak of the great war he apparently joined up and by 10th September 1915 (20) he is seen serving as a Sapper in the Royal Engineers. Not long afterwards he clearly and successfully applied for a commission.

[GREAT WAR ARMY SERVICE. 23.2.16 to 1.9.1917]

He was commissioned 2/Lt into the 9th Devonshire Regt on 23rd February 1916 at age 21.

[WOUNDED AT HIGH WOOD]

He was badly wounded in action on 15th August 1916 during the action at High Wood when a bullet which left metal fragments in his foot, passed through his left heel and ankle. He suffered more serious wounds to his neck, mouth and to the joint on his right thumb which left it permanently stiff and paralysed. From 1/2 South Midlands Field Ambulance he entered 24 General Hospital at Etaples and nine days later on 24th August was shipped back to the U.K. He was promoted to Lieutenant on 5th September 1916 with a temporary attachment to the 1/6th Gloucester Rgt while sick in the U.K. Edward also apparently lost his front teeth in the wounding incident at High Wood, and on 5th November 1916 while on U.K. sick leave he claimed a wound gratuity for the costs of his false teeth ! After his four month recovery, he arrived back in France at Rouen on 5th January 1917 being re-posted back to his original unit of 9th Devons with whom he was decorated with the Military Cross. The award was probably for his gallant actions with the battalion at Ervillers, Mory & Ecoust during its period in the front line from 22nd -26th March. (LG 26th May 1917)

[ROYAL FLYING CORPS. 1.9.1917 to 1.4.1918]

He is then seen being transferred to the RFC with a grading as an Observer and later as a Pilot with No.4 Squadron on (RE8's) in which roles he served with great distinction.

[ROYAL AIR FORCE, 1.4.1918 to 1.9.1925] [WORLD WAR TWO, 7.9.1939 to 9.11.1945]

On 1st April 1918 upon the amalgamation of the RFC & RNAS Edward's rank eventually became "Flying Officer". During his time with No.4 Sqd on 4th September 1918 he attacked and shot down a German observation balloon near Armentieres.Immediately after this action he was attacked by 6 enemy aircraft. He and his observer, 2nd/Lt W.G. Greenaway, were badly wounded in what was an extended action during which they were shot at and attacked all the way back to the British lines. He had expended all his ammunition in the fight but managed to force land the aircraft safely over the British lines.

[THE DISTINGUISHED FLYING CROSS]

He then flew with No.7 Squadron R.A.F. with who he was recommended for his DISTINGUISHED FLYING CROSS, which was gazetted on 10.10.1919.

"FOR DISTINGUISHED SERVICES DURING THE WAR"

His original & full DFC recommendation has survived and there is a copy of it in the research file. No.7 SQUADRON R.A.F.

(Temporary Lieutenant Edward Leslie Barrington M.C) -Action for which commended-

"Lieut. Barrington served with No.4 Squadron as an observer from 8/9/17 to 9/3/18. During this period he carried out very excellent artillery work, completing close to 100 successful C.B.shoots. His artillery work has always been of the HIGHrs standard and he was commended for his work by G.O.C., R.A., XV Corps, G.O.C., H.A. and C.B.S.O. XV Corps H.A.......Lt BARRINGTON was always put on the most difficult shoots, and to my knowledge, has not had a single failure to his credit. On 4th September 1918, Lieut. BARRINGTON carried out a very successful contact patrol at 100 feet, he successfully located our advanced troops and attacked enemy infantry, transport and batteries in action with machine gun fire, causing many casualties, and on the same flight succeeded in shooting down an enemy observation balloon in flames. He was attacked by 6 enemy machines and although badly wounded, succeeded in landing his machine safely and brought back valuable information. Lieut. BARRINGTON has been acting Flight Commander for this past 6 months and has always carried out his duties in a very efficient manner. Lieut.BARRINGTON was recommended to be promoted to Flight Commander in March 1918, but owing to wounds, was unfortunate in not being promoted. Recommended for a foreign decoration in October 1918.

[RECOMMENDATION FOR BELGIAN ORDER OF THE CROWN]

No.4 Squadron. "Chevalier de L' Ordre La Couronne" "Lieut Barrington when on a C.B. Shoot attacked a hostile balloon in the vicinity of ARMENTIERES. He succeeded in shooting the enemy balloon down smoking badly. (Confirmed by No.10 Squadron) and he was then attacked by 6 enemy scouts. He and his observer were badly wounded in the first minute of the fight, notwithstanding this he expended all his ammunition in the fight and successfully reached this side of the line although heavily attacked all the way back. This officer was previously an Observer in this squadron and did very excellent work, his efficiency as an Observer reaching the highest standard. He always displayed an utter disregard for danger and was a splendid example to the rest of the squadron".

[POST WAR SERVICE]

15.12.1919 No.14 Sqd in Palestine.(FE2b "Bristol Fighter") 8.1.1921 School of Naval co-op & Aerial Navigation, Fawley. 25.1.1922. Uxbridge-supernumerary. 24.2.1922. No.70 Sqd, IRAQ. (DH9a and Vickers Vernon) 23.1.1923. No.1 Squadron, IRAQ. (Sopwith Snipe) 1.7.1923 Home to Uxbridge (sick). 17.9.1923 No.7 Squadron, Bircham Newton. 1.1.1924 Promoted Flight Lieut. 16.7.1924 No.2 F.T.D. DIGBY, Lincs, until retirement. 1.9.1925. Retired from the service. (Age 30) 7.9.1939. Recalled for RAF service in WW2 (Age 44) 1.6.1942 Promoted to temp' Squadron Leader. 9.11.1945 Finally retired from service. (Age 50) After an incredible military career, Sqd Ldr Barrington died 4th May 1976, aged 81. From our extensive experience in RAF matters and when looking at the work style and the leather & velvet storage case, this lovely group of seven was probably remounted for wear by Spink & Son Ltd in the late 1960's, most probably for wear during the R.A.F. 50th Anniversary celebrations in 1968. The recipient was then only 73. This is a truly exceptional dual service "Double Gallantry" group to a greatly valiant man who really put his back into the defence of this country. With many low level & exciting early flying escapades with the RFC & RAF in France and much interwar flying in Iraq, his was an exceptionally varied career. Having clearly been an RAF reservist he was called up just four days after the declaration of war in 1939 and promoted to acting Squadron Leader while in service during WW2. A Rare & Truly Excellent Group. £12,500 With part exchanges welcome.