WAR MEDAL, VICTORY MEDAL 
Defence Medal WW2.
(PAIR NAMED TO R.F.C.)
To:
24648. Pte Percival Richard Poulter. R.F.C.

later served as 573196. 51st Coy, Labour Corps.
( Discharge document confirmsas also served with the LIncoln Regiment) capacity unknown .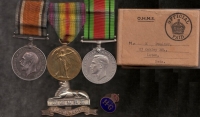 WW1 Lincolns Hat Badge & Home Guard (HG) lapel badge
Discharge Document and Boxed Defence Medal with issue slip.




Unusual to see an RFC pair as they are usually trios. ( This is Poulter's full entitlement)
SOLD
(Research may show an interesting Squadron attachment)