Original RFC Aluminium 'DOG TAG' To: 107. S.M.BRUCE. (C.E) RFC.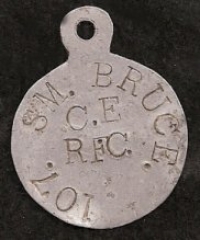 One of the original members of the RFC, William Robert Croft was born in London on 11th July 1881. Croft took his RAeC Aviators' Certificate (No.467) as a Sergeant on 23rd April, 1913 on Salisbury Plain on a Maurice Farman. Went to France on 14th August 1914 with 5 Squadron. Later commissioned, he is seen in the A.F.L. as a Captain in 1918.
Further full details of Bruce's service are to be found in " A Comtemptible Little Flying Corps" (Page 86)
( SOLD)  Amazingly re-united with the recipient's medals !