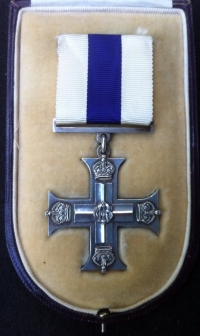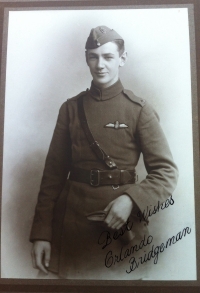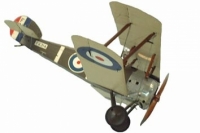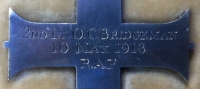 A Magnificent & Rare ROYAL FLYING CORPS & ROYAL AIR FORCE.
"FLYING CIRCUS (TWO KILLS) COMBAT" Immediate "SOPWITH CAMEL" MILITARY CROSS.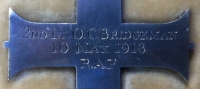 Privately named with correct, original & contemporary chisel engraving.To:

2nd Lt O.C.BRIDGEMAN. 10th MAY 1918. R.A.F.

2/Lt - Captain ORLANDO CLIVE BRIDGEMAN. M.C. was a famous Ace with 5 kills who flew with 70 & 80 Sqds.

[CITATION]

"For conspicuous gallantry and devotion to duty. The patrol he was leading was attacked by twenty or thirty enemy aeroplanes, of which he destroyed two himself, and by skilful manoeuvring enabled two others to be crashed by officers of his patrol. His tactics and gallantry undoubtedly prevented what might have been a severe reverse to his patrol. On many occasions his work in attacking troops and other ground targets from low altitudes has been excellent, and his example and skilful leadership have been of great value to his squadron".

Supplement to the London Gazette,16th September 1918.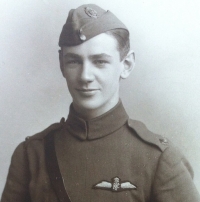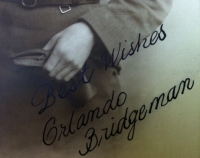 With an original and personally signed uniformed photograph ( still in it's original display folder ) by 'Lafayette' the famous photo company of the aristocracy who held the Royal Warrant of Queen Victoria. The picture being taken at the time of Bridgeman's pilots wings pass out.

[BIOGRAPHY]

Bridgeman was the fourth son of Brigadier-General the Honourable Francis Charles Bridgeman, and his wife Gertrude Cecilia (née Hanbury). His father was the second son of Orlando Bridgeman, 3rd Earl of Bradford, and through his mother he was a direct descendent of the Plantagenet King Edward III. He was educated at Harrow School. In early 1917, soon after his 18th birthday, Bridgeman joined the army as a cadet, and on 17 March was appointed a probationary temporary second lieutenant on the General List, attached to the Royal Flying Corps, being confirmed in that rank in August. Bridgeman was posted to No. 70 Squadron RFC, flying the Sopwith Camel.
He was wounded on 25 August after being shot up by the infamous Hermann Göring who was then the commanding officer of Jagdstaffel 27 and who later rose to be become the commander in chief of the Nazi Luftwaffe & Adolf Hitler's deputy.

After a number of months in hospital he returned to active duty in March 1918, and was posted to No. 80 Squadron. On 16 March he gained his first aerial victory driving an Albatros D.V down out of control north-east of Le Catelet. On 28 March he was promoted to acting-captain to serve as flight commander of "B Flight", after the previous flight commander was killed. His second victory came on 11 April, setting an Albatros D.V on fire over Bois du Riez.

[THE FAMOUS 'DOG FIGHT' WITH THE FLYING CIRCUS]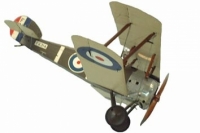 On 10 May Bridgeman was leading his flight on patrol out of La Belleview aerodrome when they were engaged by between 20 to 30 enemy aircraft from Jagdstaffel 6 and 11, Richthofen's "Flying Circus", over Morcourt. Richthofen (The "RED BARON") himself had only been killed three weeks previously on 21st April and his unit was clearly out in force looking for a fight. They fell on Bridgeman's "B" Flight and shot down three Camels & damaged several others. Bridgeman turned head on into the fight and destroyed two Fokker Dr.I, tri-planes and two others were also shot down by his pilots, but three of his own men were killed, two wounded with one of them also taken prisoner, and two more aircraft crash landed back in British territory.

[THE BRITISH LOSSES IN THE DOG FIGHT]

B.2463 Lt A.W. ROWDON. Killed-in-Action..by Oblt E. Von Wedel (Jas 11) D.6419. 2/Lt G.A. WHATELEY.Killed-in-Action..by Ltn.H.Kirshsten.(Jas 6 ) D.6619 Lt C.G.S. SHIELDS. Killed-in-Action.(burned)...by Ltn Wolff (Jas 11) D.6457 2/Lt A.V. JONES. W-in-A & P.O.W....by Ltn W.Steinhauer (Jas 11) D.6591. Lt H.V. BARKER. Wounded-in-Action .......? B.7322. Lt C.S.L. COULSON. Safe B.9243. Lt T.S. NASH. Safe D.6481. Capt. O.C. BRIDGEMAN. Safe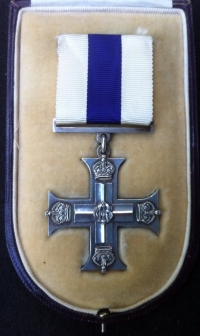 Bridgeman was subsequently awarded the Military Cross for this action, which was the only one received by a member of 80 Squadron. On 27 June Bridgeman gained his fifth and final victory, driving down a Fokker D.VII over Neuve-Chapelle. In July or August 1918 he was assigned to serve as a flying instructor. Bridgeman finally left the service, being transferred to the unemployed list, on 11 April 1919. Post-war he graduated from Trinity College, Cambridge, with a Master of Arts degree. He married Nancye Newzam Nicholson (1899–1967) on 30 April 1924 at St George's, Hanover Square, London. Bridgeman, then of 6 Pelham Crescent, South Kensington, died of blood poisoning on 21 December 1931, aged just 33. His will contained the amount of £13,711.16/1d which was a serious fortune at the time. He is commemorated with an engraved brass memorial plaque inside St Bartholomew's Church, Tong, Shropshire. The plaque refers to a bible reading Joshua 1v.9 "Have I not commanded you? Be strong and courageous. Do not be afraid; do not be discouraged, for the Lord your God will be with you wherever you go."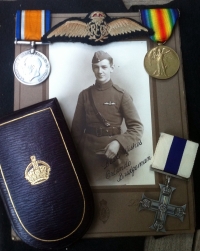 2/Lt Orlando Bridgeman is also entitled to a simple WW1 War & Victory Medal pair. We have therefore included a blank pair to visually represent his full entitlement. If you have his original pair in your collection we would be delighted to purchase these from you. Interestingly, this M.C. which is still in it's original case, is certainly one of the very last Military Crosses to be awarded to the RAF after it's inception on 1st April 1918 as in a very few days after this award was made the then 'new' and dedicated RAF decoration of the D.F.C. began to be awarded. All in all this is a seriously magnificent, rare & totally correct medal awarded to one of the RFC & RAF's leading aces which was won in deadly combat against perhaps the most famous and deadly enemy fighter unit of all time ....Baron Manfred Von Richthofen's Flying Circus.The group will be supplied to the lucky buyer with all our current and ongoing research papers. NOTE: If you wish to purchase this classic, please be quick to contact us as if remaining un-sold in 30 days the medal will be going into my private collection. (SOLD).