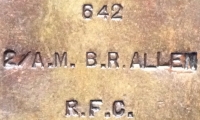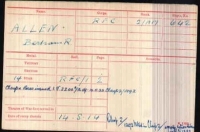 A SUPER RARE "CONTEMPTIBLE LITTLE FLYING CORPS" ROYAL FLYING CORPS

1914 STAR & BAR TRIO

To: 642. 2AM / 1AM B.R. Allen R.F.C.

No. 5 Squadron. France 14th August 1914.

These early RFC trios are terribly rare and in reality are almost unobtainable. Only 1400 issued. [BIOGRAPHY]Bertram Richard Allen was born in Deal, Kent on 30th May 1892. A Church of England lad and previously employed as a Chauffeur. He was a short man of just 5ft 2". He joined the RFC on 28th March 1913 at age 20 as No. 642. As such he was one of the very earliest members of this new and exciting corps of aviators which was formed at the very dawn of air fighting. Allen went to France with the original B.E.F. flying units on 12th August 1914 which were among the very earliest British military entrants of the Great War. He served in France from 12th August 1914 - 31st July 1915 . From France he proceeded back to the UK, and almost certainly served at the Reading school of air training where he helped maintain the training aircraft. Was promoted to Flt /Sgt on 1st July 1916. He then auto transferred to the RAF upon it's formation on 1st April 1918 and served with both 120 & 130 Squadrons. On 31st March 1920 he was posted to Egypt with 55 Squadron on DH9's with a return to the UK via Port Said and Abyssinia on 7th December 1921. He married 'Annie' on 24th June 1916 (probably while serving at the RFC Reading Flying School.) The couple had a daughter "Nancy Allen" born at Old Windsor on 17th May 1920. He was discharged on 27th January 1922 after a service career of 8 years & 305 days. He settled at 90 Curzon Street, Reading, Berkshire. The address still exists. No.5 SQUADRON. R.F.C. Formed at Farnborough on 26 July 1913, No.5 Squadron went to France to provide reconnaissance for the BEF in August 1914. The Squadron had the distinction of recording the RFCs first war casualties when an aircraft was hit by rifle fire on 22 August 1914. The Squadron then took a leading role in the development of aerial photography and wireless telephony during the early days of the War. Artillery observation was the main task with BE2Cs and in 1917 the Squadron formed a close association with the Canadian Corps, remaining with them after the Armistice as part of the Army of Occupation in Germany. Hence the Canadian maple leaf on the RAF Squadron crest.

All these 1914 Star & Bar RFC trios are, and always have been, as rare as hens' teeth. Looking back, we record just 36 complete groups bought in 38 years

.WITH COPY SERVICE PAPERS. EF+ WITH ORIGINAL CLASP & RIBBONS, THIS RARE TRIO IS FIT FOR THE FINEST COLLECTION OF EARLY FLYING MEDALS.



£1395 Part Exchanges are very welcome.