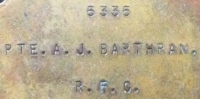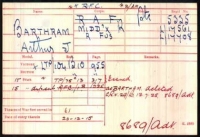 An Interesting 
ROYAL FLYING CORPS
1914-15 Trio.
To:
 5335. Pte. Arthur J.BARTHRAM. R.F.C.Entered France 20th December 1915.
 (Transfered to 6th Middlesex Rgt as Pte. 17561, in Jan,1918 and then to Royal Fusilliers as Pte.17708.)
ALL MEDALS NAMED TO R.F.C,

Comes with copy MIC, which states that his first 1914-15 Star was incorrectly named to "BARTHAM".
another star was subsequently sent with the correct name of "BARTHRAM"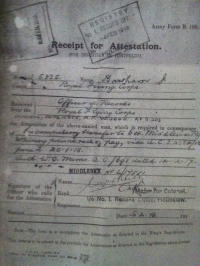 Also included is a copy of a 'Receipt for Attestation (papers)' which was produced by 6th Middlesex Rgt on 5th February 1918 as a confirmation that his papers had been received from the RFC.  
Arthur was married to a Miss Harding in 1925 in Lincoln.

WORTHY OF MUCH FURTHER RESEARCH 
Medals EF on Original Ribbons.
£395