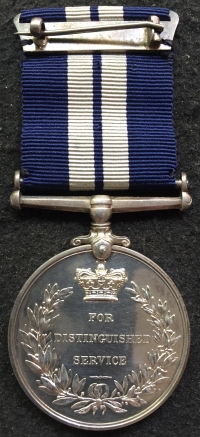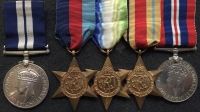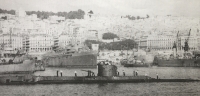 AN EXCEPTIONAL & RARE WW2 (MEDITERRANEAN THEATRE)

"SUBMARINE SERVICE" DISTINGUISHED SERVICE MEDAL

To:

D/SSX 23807. WALTER EDGAR GARNHAM Temp/A/ C.P.O. W.E. GARNHAM R.N.

[THE MEDALS]

With original addressed brown box of issue.

1939-45 Star Atlantic Star Africa Star 1939-45 War Medal

DISTINGUISHED SERVICE MEDAL (GVI)

(Officially Engraved)

Temp/ A / C.P.O. W.E. GARNHAM. D/SSX. 23807.

[BIOGRAPHY]

14th August 1920- Walter Edgar GARNHAM was a Church of England lad and was born in Brynmill near Swansea, Glamorgan on 14th August 1920 He entered the Royal Navy on 2nd December 1937 as a volunteer (Boy 2nd Class) for a 12 year service engagement at the age of 17. Prior the enlistment he had been a coach builders mate. His family lived at 11 Langland Terrace, Brynmill.

[CITATION]

London Gazette, 3rd November 1944. "For outstanding courage, skill and devotion to duty in successful patrols in H.M. SUBMARINE "UNIVERSAL"

(Combined Extract from Honours & Awards Committee Reports)

In the course of ten War Patrols in the Mediterranean since July 1943 H.M.S. UNIVERSAL sank or damaged a total of 40,000 tons of enemy shipping. She has endured frequent counter attacks and has contributed a large share to the disruption of the enemy's sea communications. She was handled with courage and skill by her Commanding Officer, Lieutenant C. Gordon. R.N. This exceptional group comes with some rarely surviving original personal papers including the original Form S.-459 service velum, a training assessment card which carries some interesting and very positive comments about the recipient while he was in training...this stamped up and approved by the C.O. of HMS WILDFIRE on 19th July 1938. Also included is an usually surviving Buckingham Palace personal Investiture invitation card. 13th March 1945. All medals are "Gem Mint State" including the DSM which is totally prooflike and virtually "as struck". In its original case and clearly having never been worn.

A Very Rare & Seldom Seen Submarine Service Gallantry Group.

£2995 with part exchanges welcome.