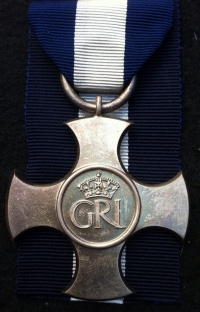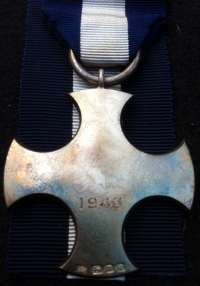 AN EXCELLENT WWII DISTINGUISHED SERVICE CROSS GROUP OF EIGHT, To: Lt - Lt Cdr. M.SERRAILLIER. R.N.(V.R.)
"FOR GALLANTRY IN THE FACE OF THE ENEMY & FOR SETTING AN EXAMPLE OF WHOLEHEARTED DEVOTION TO DUTY WHICH UPHELD THE FINE TRADITION OF THE ROYAL NAVY"

(AWARD LG JUNE 1945)

DISTINGUISHED SERVICE CROSS

(officially engraved 1945)(Unamed as issued) Hallmarked (SG) 'K' (London,1945) With original case by Garrards 1939/45 StarATLANTIC STAR (France & Germany Clasp)AFRICA STAR (North Africa 1942 clasp) ITALY STARWAR MEDAL

Served in HMS HOOD. (Survived due to commission posting) Then HMS QUEEN EMMA."SPECIALISED COMMANDO LANDING SHIP"

Lt Serraillier served in some of the most dangerous theatres of the war and constantly took into action the Commando units who did the most famous and critical Beach Landings of the war.These were at:

LOFOTEN ISLANDS

British Army Commandos destroyed the German Herring Oil (nitro glycerine) production.

THE DIEPPE LANDINGS

Landed Canadian Troops on

"BLUE BEACH"

OPERATION TORCH

(The North African landings)

OPERATION HUSKY

(The Sicily Landings)

D-DAY, Operation Overlord on 6th JUNE 1944

.NOTE: He is well known as the officer who produced the famous D-DAY landings film from the bridge of HMS QUEEN EMMA.
After the war he became a famous photographer with an international reputation.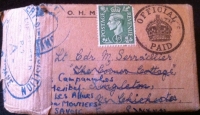 Included are the original citation from the Admiralty, the named King's Letter & The original packing list with box of issue.

(BIOGRAPHY)

Lt Cdr Michael Serraillier DSC RNVR made a film of the D-Day landings from the landing craft Queen Emma. This was shown at the 65th anniversary at the Imperial War Museum. ?He was the youngest of four siblings: his elder brother Ian Serraillier was a prominent author and poet (although a Quaker and hence a pacifist, he wrote the classic wartime adventure story The Silver Sword). His sister Rosemary was a concert pianist. Michael went to Brighton College, trained at The Savoy, London as a chef and was working in Germany when war broke out. He returned to enlist in the RNVR and served on HMS Hood. He was selected for officer training two days before she set off on her final voyage. He was involved in the Norway campaign and in the D Day landings. There is an archive of monochrome negatives from the camera he carried with him throughout the war, a number of his pictures being published in The Times. Following the war he settled in Meribel, building the first hotel in what was to become a popular ski resort, but concentrating on photography as his principal source of income. His work was used for the Air France calendar for many years and he produced a series of photographic essays for Sun Editions including Les Alpes Que J'Aime. His work was marketed throughout the world by Agence Rapho, Paris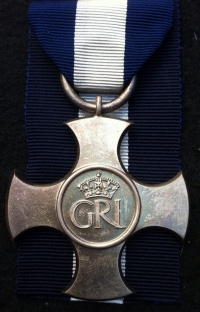 All medals "MINT" with D.S.C. in it's original case.SOLDENQUIRIES & PART EXCHANGES WELCOME.