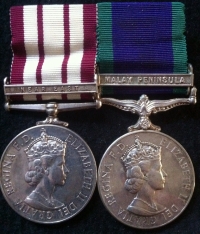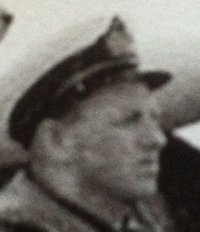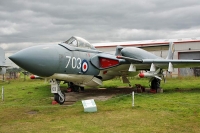 A VERY RARE FLEET AIR ARM, PAIR
NAVAL GENERAL SERVICE MEDAL

(NEAR EAST) &

CAMPAIGN SERVICE MEDAL

(MALAY PENINSULAR) To:

LT CDR H. ELLIS. (Observer) R.N.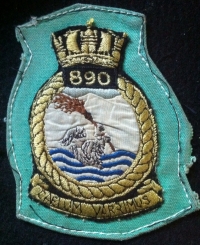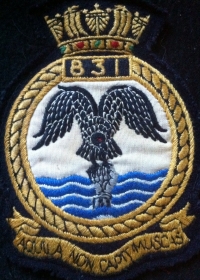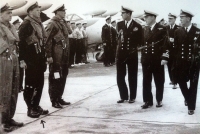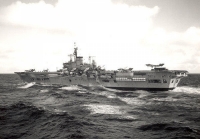 LT Ellis seen (Arrowed) during an 890 Squadron inspection by HRH Duke of Edinburgh, and Sea Vixens seen landing on H.M.S. Ark Royal.LT COMDR ELLIS FLEW WITH 831 & 890 Sqds FAA. (Sea Vixens & Sea Venoms from HMS HERMES & H.M.S. ARK ROYAL ) The following aircraft carriers were employed during "Operation Musketeer" HMS Albion, HMS Bulwark, HMS Eagle, HMS Ocean, HMS Theseus. Having qualified for the NEAR EAST & MALAY PENINSULAR clasps it is clear that Lt Cdr Ellis served in & operated from one or more of these vessels during the campaigns of the 1950's & 1960's. Naval flying medals are seldom seen for sale and officers' medals to naval aircrew are extremely rare to find. This is an excellent research project as the dates of his service & medals earned are a clear indication of some exciting 'off carrier' operational flying in the 1960's by Lt Cdr Ellis. The pair come complete with the miniature pair and all the illustrated name tags & badges etc.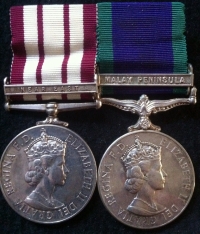 A VERY RARE & DESIRABLE PAIR. SOLDwith part-exchanges welcome.