SUPERB & RARE SUBMARINE OFFICER'S CASUALTY TRIO 
 
1914-15 Star Trio 'Mint State' with original unfolded ribbons.
To: 
S.Lt  S.L. BRINDJES. R.N.R.
(Lieut. S.L. BRINDJES R.N.R. on Pair)
(Killed in Action 4th October 1918 in H.M.S.M.  L.10)
Stanley Lionel Brindjes
 Killed In Action along with the entire crew of 38 other sailors who were lost when HM's Submarine L.10  was sunk by German Torpedo Boat S.33 on 4th October 1918.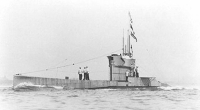 Launched just over 4 months previously the L.10 was patrolling in the Heligoland Bight with the mission of intercepting a four ship German raiding party comprising SMS S34, SMS S33, SMS V28 and SMS V29. This German party had been delayed in the Bight because the S34 had detonated a mine. The other destroyers were crowded around their damaged comrade, and so it was easy for the L.10's commander, Alfred Edward Whithouse to sneak into position and put a torpedo into the S33,which rapidly began to sink. Unfortunatly, as she fired, the L.10 rose suddenly to the surface and was seen by the V28 and V29. Although she turned and tried to flee, L.10 was not fast enough to escape her pursuers and was rapidly chased down and sunk with all hands. She was the only L class boat to be lost during The Great War.
With research paperwork which includes photographs and an Original postcard photo of a group of L class submarines at anchor.
A much sought after submarine service officer casualty group to a famous action.
Lt Brinjes was the sone of Mrs R. M. Brinjes, of 18, Bark Place, Bayswater, London and the late Major J.F. Brinjes husband of Beatrice Elizabeth Brinjes. 
STANLEY LIONEL BRINJES IS REMEMBERED WITH HONOUR
AT
PORTSMOUTH NAVAL MEMORIAL   
This action was recently examined on 'THE SEA HUNTERS' (Episode12) in a recent History Channel Series on T.V. 
A Very Rare Officer's Casualty Group…..

£1,750.00