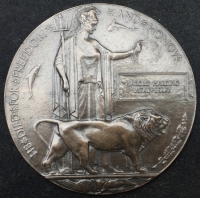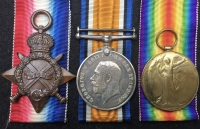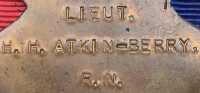 A VERY RARE & REMARKABLE

"SUBMARINE OFFICER" CASUALTY.

1914-1915 Trio & Plaque.

Lieutenant H.H. ATKIN-BERRY. R.N.

(2nd in Command, H.M.S/M "E.26")

KILLED IN ACTION. 6th July 1916.

[BIOGRAPHY] 1892-1916 (24)

Harold Harding Atkin-Berry was born in Surbiton, Surrey on 2nd March 1892. He entered the Royal Navy on 15th January 1905 Promoted to Sub Lt on 30th December 1912 & Lt 30th December 1914 . He applied for the submarine service in February 1912 and was accepted with a senior officer's remarks & assessment of: "Much Zeal, sound judgement, good at games, well suited for submarines" He was later criticised as being "not particularly quick and occasionally a little hasty when dealing with men". (* Clearly not a relation of Horatio Nelson then!)

[H.M. SUBMARINE "E-26"]

E-26 was built by William Beardmore & Co, Dalmuir, Scotland. She was, along with the future E-25 one of a pair of submarines ordered by the Ottoman Navy on 29th April 1914, but was taken over by the Royal Navy and assigned as E-26. She was laid down in November 1914, commissioned on 3rd October 1915 and launched on 11th November 1915 and survived in service for just over six months.

[THE SINKING] 3rd July 1916.

On 2nd July 1916 a German Patrol boat reported a trail of oil on the sea surface off the estuary of the River Ems in N.W. Germany that was thought to be emanating from a submarine. The following day on 3rd July German forces found and attacked the E-26 with both gunfire & bombs ( early depth charges ). Apparently, because of some serious degree of distraction and incapacitation E-26 did not return fire and was sunk and lost with all hands (3 officers & 28 ratings).

Harold Harding Atkin-Berry who was Second in command of E-26 was: "Presumed to have lost his life whilst on duty 6th July 1916"

Harold is remembered with eternal honour on THE PORTSMOUTH NAVAL MEMORIAL.

A Superb & Very Rare grouping.

We cannot remember ever seeing a submariner officer's casualty trio WITH its commemorative plaque, at any previous time. Medals are EF+ with original mint ribbons. Plaque is a superb & glossy deep mahogany brown. A wonderful & emotive submarine service group.

£2350

with part exchanges welcome.