N.G.S. [Persian Gulf 1909-14] 1914-15 Trio, & LONG SERVICE GOOD CONDUCT MEDAL with
"NAVAL GOOD SHOOTING MEDAL 1914"
A Group of Six.
To:
217313 J.C. EARWICKER. A.B. R.N.
H.M.S. PHILOMEL, H.M.S. SPARROWHAWK. (& the S.S. METAGAMA Troop Ship)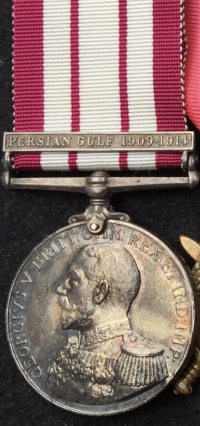 [THE MEDALS]
N.G.S. [PERSIAN GULF 1909-1914]
217313 J.C. EARWICKER. A.B. H.M.S. PHILOMEL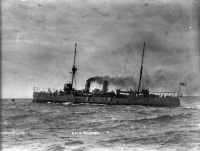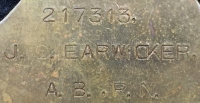 1914-15 STAR
217313. J.C. EARWICKER. A.B. R.N.
WAR & VICTORY MEDALS
217313 J.C. EARWICKER. ACT. L.S. R.N.
L.S.G.C.
217313 J.C. EARWICKER. A.B. H.M.S. PRESIDENT III
NAVAL GOOD SHOOTING MEDAL
217313 J.C. EARWICKER. A.B. H.M.S. SPARROWHAWK. 1914. 4 1N. B.L.
Only 950 Naval Good Shooting Medals were issued and are thus very rarely seen. This particular medal was a one of the very last awards won before the Great War as the medal was discontinued in 1914.
[BIOGRAPHY] 1884-1947 (63)
Joseph Claude Earwicker was born in Littlehampton, Sussex in 1884 and prior to his enlistment he had been a general labourer. Joe Earwicker was only 5ft 2" tall when he joined up as a boy in 1902 and had an unusual career in that he joined the Royal Navy on a planned 12 year engagement in 1902, which, in the end encompassed the Great War and went on until 1924. During the period of his initial career in the early 1900's he served in the Persian Gulf in the Cruiser HMS PHILOMEL (N.G.S. & Clasp) and later before WW1 in several other purely R.N. postings both ashore & afloat.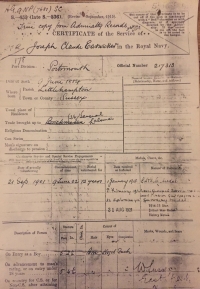 His 12 year engagement, from which he would have always assumed a discharge in the summer of 1914 was obviously extended as this date subsequently proved to be right in the teeth of the Great War. Having clearly got on well in the navy he elected to join the Royal Fleet Reserve in the summer of 1914 and by being a reservist he probably hardly had time to have a cup of tea before he was immediately recalled to full duty on 2nd August 1914.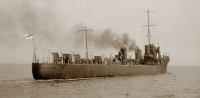 For a short pre-war period he was part of the crew of the destroyer HMS SPARROWHAWK which was present at The Royal Fleet Review on 18th-20th July 1914. It was during this event that he took a winning part in the Royal Navy's gunnery competition with the resulting award of his Naval Shooting Medal on the 4" Inch Breach Loading Gun. HMS SPARROWHAWK was lost at the Battle of Jutland but luckily for Joe he wasn't part of the crew at that time. On the commencement of the Great War while serving in the RFR and clearly being an experienced and reliable A.B. with an excellent standard of gunnery he was employed as a deck gunner in Defensively Armed Merchant Ships (D.A.M.S.) for the duration of the war. Interestingly, his time in the armed merchant ships with RFR is not individually recorded on his service papers which are purely R.N. records, but an important note in the papers confirms that the time he spent in this capacity qualified for "increase in pay & pension".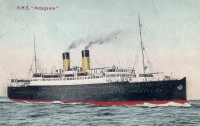 [DECK GUNNER, S.S. METAGAMA. C.P.R.C. LINER & TROOP SHIP]
One such defensively armed merchant ship in which he served as an RFR deck gunner was the Canadian Pacific Railway Company Liner S.S. METAGAMA which was pressed into service as a troop carrier during the Great War. The ship plied the transatlantic route between St John's New Foundland & Liverpool carrying WW1 Canadian troops to England when eastbound and mainly Scots emigrants when going back home. He received his Naval General Service medal on 8th February 1915, his Naval Good Shooting Medal on 21st September 1915 & his LSGC on 1st January 1918 ....He re-enrolled into the RFR for a second period on 7th June 1919 and remained a member until his final discharge on 9th June 1924 at the age of 40 with a gratuity of £100. Joseph died aged 63 on 5th January 1947 with probate of £413 granted to his wife Lilian. His final address was 9 Oving Terrace, Oving Road, Chichester, West Sussex.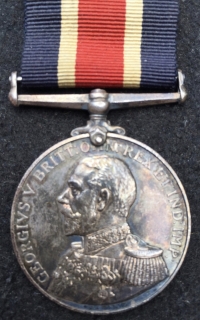 This is a greatly outstanding group to a man with long and excellent service in the R.N. & R.F.R. Only about 45 groups containing a Naval Good Shooting Medal have appeared in the main London auction houses in the past 10 years, so the arrival of this "fresh to market" group is an unmissable opportunity to acquire an example. The groups, when they rarely do show up are invariably individually unique combinations and many do not include a campaign medal.
A similar group (but without the N.G.S.) to the Royal Marines brought £2600 + commission as Lot 237 in the DNW sale of 17th September 2020 against a pre-sale estimate of £500-£700 !
Our Price WITH the Persian Gulf N.G.S. & Full Service Papers £2550 Call us today on 01342-870926 to secure this item as you will almost certainly never see a similar group as this is almost certainly a uniquely surviving combination.