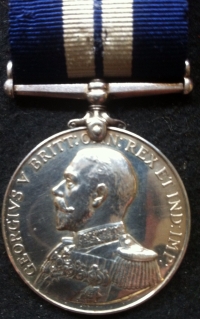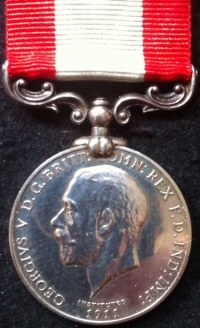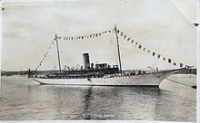 A RARE & DESIRABLE

DISTINGUISHED SERVICE MEDAL,

(Merchant Fleet Auxiliary) 1914-1915 Trio &

ROCKET APPARATUS L.S.G.C.

Group of Five. To:

ABLE SEAMAN JAMES JOHNS "H.M.S.Y. MARYNTHEA" AUX PATROL 1917

The 'MARYNTHEA' was a war requestioned private steam yacht ( A very posh vessel owned by the then boss of Selfridges ) which was based at Gibraltar.

[HISTORICAL BACKGROUND]

James John's served as an Able Seaman aboard the requisitioned Steam Yacht 'MARYNTHEA". The vessel was in commission with the Royal Navy between 4th February 1915 and 8th February 1919. Built in 1911 of 900 tons ; Length: 234 feet; Breadth: 30 feet 7 inches; Draft: 13 feet 6 inches; Power: 1800 IHP; Speed: 15 knots. Designed by Camper & Nicholsons. Built and engined by John I Thornycroft & Co Ltd. London and Southampton. It became an Auxiliary Patrol Leader, after being requisitioned from Mr H. Gordon Selfridge the famous American owner of the Selfridge store empire. The ship was based in Gibraltar and formed part of the Eastern Patrol which covered the area from Alborn Island to Cape Palos, Oran. Armed with two 12 pounder guns it was a swift and substantial vessel.

[DSM. LONDON GAZETTE, 6th April 1918 Page 4620]

AB James Johns: "In recognition of services in vessels of the Auxiliary Patrol between 1st January & 31st December 1917" [ROCKET LIFE SAVING APPARATUS L.S.G.C] Johns was also unusually awarded this extremely scarce medal for his service at the Torcross Station, Salcombe Division, Devon. An Extremely Rare DSM - ROCKET combination. The medals being practically mint state this is a superb group. We've never seen another such combination, so possibly unique. With various copy research papers £2650 with part-exchanges welcome.