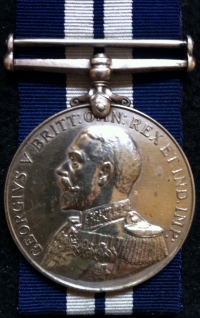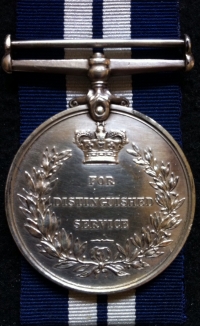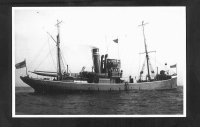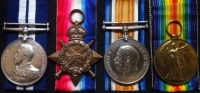 THE TOTALLY EXCEPTIONAL, EMOTIVE & FAMOUS (U-53)

"FISHING BOAT / U-BOAT ATLANTIC ATTACK"
DISTINGUISHED SERVICE MEDAL & 1914-15 TRIO, CASUALTY GROUP OF FOUR. To:
SD. 2496. Deck Hand & R.N.R. Gunner Sydney W. Beck. 20th June 1918.
Died of Serious Wound Complications on 12th November 1918 just one day after he had learned of our final victory in the Great War.He was just 33.
DSM (London Gazette 4th October 1918)
Honours for Services in Action with Enemy Submarines. ADM37/ 1446 states: "decorations in connection with meritorious services rendered during the action fought between an enemy submarine cruiser in Iceland section No2 on 20th June 1918. "
SYDNEY BECK, RNR, DISPLAYED VERY GREAT COOLNESS & CONTINUED SERVING HIS GUN AFTER BEING WOUNDED"
His shipmate Sydney Garland RNVR received a mention in dispatches (MID) for manning Beck's gun during his temporary absence while being bandaged and for keeping the gun in action.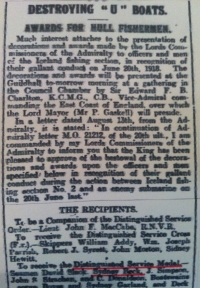 ["DESTROYING "U" BOATS, AWARDS FOR HULL FISHERMEN"]
This was a major action and news of it's great success was made public when The Daily Mail of Tuesday 17th February 1919 covered a description of the action and details of the very many awards on page five.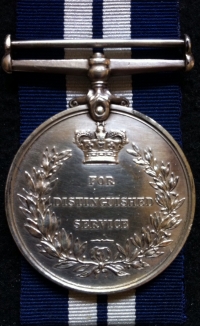 D.S.M. Officially Impressed:
S.D.2496 S.BECK, DK.HD. R.N.R. "AISNE" ATLANTIC. 20.JUNE 1918.
[BIOGRAPHY]
Sydney Beck was born in Rochester on 6th April 1885 and worked pre-war as a fisherman. On declaration of war he joined the R.N.R. and trained as a fisheries protection Gunner. During June 1918 six Hull based fishing trawlers (5 armed) were retuning to port laden with fish. Without warning they were intercepted by U-53 which opened fire on the group. After a determined attempt to sink our ships the submarine was severely damaged by a shell from Beck's deck gun which clearly severed a steam pipe leading to the sub leaving the scene. Beck was seriously wounded in the left thigh & foot by explosive shells during this famous action in the North Atlantic with U-53. Sydney Beck manned the single forward deck gun and seriously damaged the submarine (shot through a steam pipe) until he was wounded. He then returned to his gun after bandaging. He was evacuated by hospital ship CHINA and later died of complications due to his wounds (Lobar Pneumonia) on 12th November 1918 at R.N. Hospital Chatham, just one day after hearing news of the armistice.
He rests with eternal honour in his home town at St Margaret's Cemetery, Rochester. This most famous of actions where U-53 attacked 5 armed Hull fishing trawlers 55 miles South of the Faroe Islands is one of the all time naval classic "David & Goliath" fights of submarine warfare where no less than 25 gallantry awards were won by the trawler crews.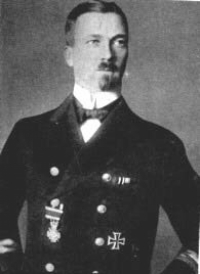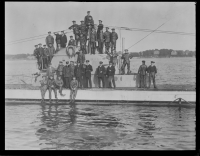 [KRIEGSMARINE KAPT HANS ROSE]
Who was the famous U-Boat Ace commanding officer of U-53 on 20th June 1918. Ironically Rose was born on 15th April 1885, which was just seven days after Sydney Beck.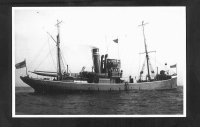 [ARMED TRAWLER AISNE]
The Aisne armed fishing trawler showing forward gun and white ensign.Built in 1915, 315grt, Hull-reg H.243. Requisitioned by the Admiralty in 1917 for the Fishery Reserve, commissioned and flew the white ensign; continued commercial fishing under naval control.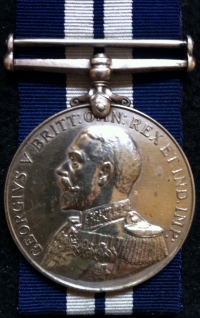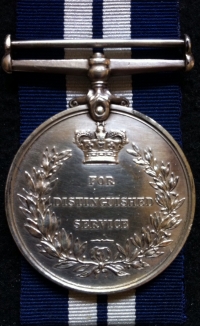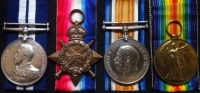 With an exceptionally large file of very comprehensive research papers.
A totally fabulous & greatly historic group.
The medals are EF with original ribbons. If you collect seriously good naval gallantry medals this group is for you.
£2995
with part-exchanges very welcome.