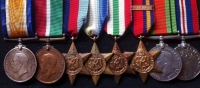 A Really Excellent
WW1 & WW2 MERCANTILE GROUP of EIGHT.

To:

218062. LEONARD CHARLES CULLIMORE.

Who served with distinction in practically all theatres of war during both conflicts. A VERY Unusual & Comprehensive group with several original papers including copy enlistment card & original WW1 & WW2 medal issue papers with WW2 medal issue box.

[BIOGRAPHY]

Leonard Charles CULLIMORE was born in London on 14th March 1900. And joined the Mercantile Marind service aged about 18 years in 1918. He is recorded as initially serving as a Wireless Operator 2nd Class, in which capacity he probably continued during World War Two. He was 39 when war broke out in September 1939 and by his medal entitlement it's clear that being an experienced radio man he served in almost every theatre during WW2. He received his WW1 medals on 13.7.1923. & his WW2 awards on 30.1.1946. The WW2 medals were issued by G.R.R.O. at Llandaff, Cardiff.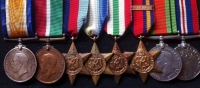 An Excellent 'two wars' group of eight to a loyal merchant sailor.£645 with part-exchanges welcome.