CHINA 1900 (no clasp),
HMS BONAVENTURE
AFRICA GENERAL SERVICE (Somaliland 1908-1910)
NAVAL GENERAL SERVICE (Persian Gulf 08-14)
HMS FOX
 1915 Trio,138659.
W. CLARKE. A.B. R.N.  
Special Constabulary Faithful Service Medal. (WILLIAM CLARKE)
To:
138659, W. CLARKE. A.B.  R.N.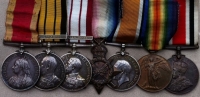 A rare & superb long running group of 7 medals awarded to a classic Royal Navy Able Seaman who saw great service spanning three reigns and served for the whole of WW1.
 (Recalled for WW1 from the RFR which he joined on 24th October 1911). 
 All with matching service numbers from the Africa right through to the Victory Medal (China not Numbered). 
(* NOTE * Apparently William Clarke did not qualify for an LSGC because he is seen having several short spells in the Cells 1909 -1912.
All medals EF with original patina. Totally original and naming is all totally 'spot on' and correct.
 Includes copies of his basic service papers ...a Great research project.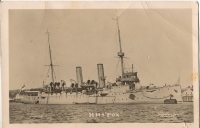 £2450