AN EXCELLENT
ROYAL NAVY "CASUALTY" MEDALS GROUPING TO THE TAYLOR FAMILY
(Father and Son)
Father's medals
CHINA WAR MEDAL 1900
(RELIEF of PEKING)
T.H. TAYLOR. P.O. CL1. H.M.S. AURORA (258 to ship) (EF, Toned)

&
1914-1915 Star Trio
126852. THOMAS HENRY TAYLOR. P.O.1. RN.
(all medals gem mint state)
Death Plaque, Card Folder, Envelope, Medal Issue Letter, & Condolence Slip.
To
THOMAS HENRY TAYLOR
Born: Bishopsleighton. Devon
Died: 21st June 1918. (Malaria)
Buried: Tooting (St Nicholas) Churchyard.
Includes copy service papers.
Son's Medals, with original 'velum' service papers
Silver War Medal 1914-18
(His only entitlement, Boy II Class, in home ports in 1918)
J.90182. T.H.I. TAYLOR. Boy 2. RN
1939-45 Star, Africa Star, Atlantic Star (F&G Clasp), Burma Star, Defence Medal, War Medal
&
L.S.G.C. (GV)
(H.M.S.Woolwich)
(All mint boxed as issued and never worn)
Original Box addressed, Kensington, London
Includes a selection of charming family photographs, one showing recipient as a saluting child sailor at about age 5.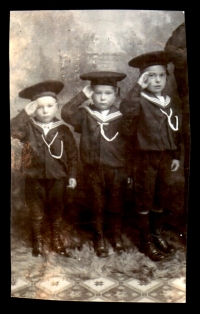 A superb grouping with almost endless research potential
£2550