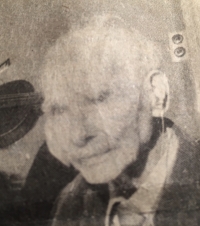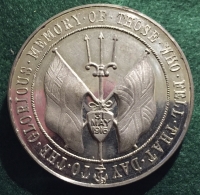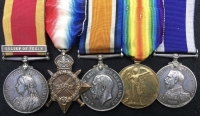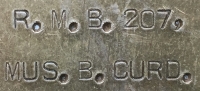 A VERY RARE

"MUSICIAN'S"

CHINA MEDAL 1900

(RELIEF OF PEKIN)

1914-15 Trio with L.S.G.C. (GV) With "Mint State" Jutland Medal (1916) To:

R.M.B. 207 MUS. B. CURD, Royal Marine Light Infantry Band.

(Previously a Royal Navy Bandsman)

[THE MEDALS]

CHINA WAR MEDAL 1900

(Relief of Pekin)

(He received his China Medal 4th July 1908).

B.CURD. BANDN. H.M.S. ORLANDO

1914-15 STAR, War & Victory Trio

R.M.B. 207, MUS. B. CURD.

LONG SERVICE & GOOD CONDUCT.(GV) (He received his LSGC on 24th April 1914)

R.M.B. 207. BENJAMIN CURD.MUSICIAN. R.M.

[BIOGRAPHY] 1881-1981

Benjamin Curd was apparently born in Portsea, Hampshire on 1st March 1881, but his Royal Navy service papers state 13th January 1881 in Brighton) He was one of the five children of Samuel Curd (1850- ) and Mary Anne Curd (nee Anderson) 1851-1886. Benjamin who was a Church of England man married Caroline Harriet Lambert (1880-1933) at St Peter's Church, Brighton, on 8th April 1912. The marriage produced three daughters, Ellen, Rose & Lily Curd.

[HMS POWERFUL CREW MEMBERS]

Ben is pictured here and is the man in the floppy hat who's seen kneeling at far right of the picture. He initially joined the Royal Navy at Eastney on 19th November 1903 at age 22. He served in his first engagement until 22nd November 1909 and re-engaged on 24th November 1909 with a return to the R.N. School of Music. Ben served in HMS POWERFUL in 1910, 1911 & 1912. At the outbreak of the Great War on 4th August 1914 he was on his third year of service in HMS MONARCH in which he served until 10th December 1917 when he again came ashore to the R.N. School of Music .

[HMS ROXBURGH]

Ben served in HMS Roxburgh during the last months of the Great War. He was discharged to Pension on 12th January 1920.

Ben Curd also took part in THE BATTLE OF JUTLAND while serving in HMS MONARCH. Also included is a "Gem Mint State" Jutland Medal, struck in white metal by Spink in 1916 with its original box lid.

Mr Curd lived to the great old age of 100 years and 73 days and is seen in the accompanying newspaper cutting in 1981 at his 100th Birthday party being entertained by a Royal Marine violinist while cutting one of four large cakes that had been made in celebration of his centenary birthday. Ben died at Fareham, Hampshire on 12th May 1981 just 73 days after his 100th birthday party.

An exceptionally unusual & rare musician's group to the oldest recipient we've ever encountered.

With full service sheet and medal rolls. £1995.