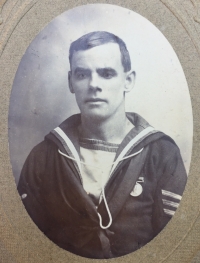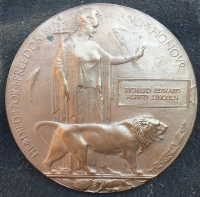 A Unique, Exceptionally Complete & Attractive East & West Africa (BENIN 1897) & 1914-15 Trio, 1911 Coronation Medal & LSGC (GV) Plaque & Scroll, Royal Navy Group of Six with recipient photo. To:

174298. E.A. LINCOLN. STO 1. R.N.

East & West Africa Medal (BENIN 1897) 1914-1915 Star Trio. Coronation Medal 1911. Long Service Good Conduct Medal (GV) The grouping includes Death Plaque & Commemorative Scroll with an excellent photograph of recipient in his naval ratings uniform wearing his Africa medal.

[BIOGRAPHY] 1874-1918

Richard Edward Alfred Lincoln was born on 2nd June 1874 in Hougham, Dover, the son of Thomas William and Ann Maria Lincoln. Prior to entry into the Royal Navy on 22nd June 1893 he had worked as stable labourer. He first entered the General Depot receiving ship HMS Pembroke, the former HMS Duncan. for an initial 12 year engagement, which he later extended. He was 5 feet 5" inches tall with a fresh complexion, brown hair and brown eyes. When he died on 12th December 1918 (just one month and one day after the armistice) he left behind a wife, Annie Lincoln of The Oak Tree House, High Street, St. Lawrence, near Ramsgate in Kent.

[THE MEDALS]

THE EAST & WEST AFRICA MEDAL

He served in 1st class Cruiser HMS Theseus during the Benin expedition of 1897 and after transfer was later presented with his East & West Africa medal on board battleship HMS Sans Pareil on 12 May 1898.

E.A. LINCOLN. STO. HMS THESEUS.

THE CORONATION MEDAL 1911

Having then joined the cruiser HMS Shannon on 10 March 1908 he was elected to represent the ship during the Coronation of King George V and Queen Mary as a member of the "Honour Guard" on 22 June 1911 for which duty he was awarded the Coronation medal. He then transferred to the Special Service Vessel HMS Hearty 10th April 1912.

The medal is un-named as issued.

LONG SERVICE GOOD CONDUCT MEDAL

He was awarded his Long Service & Good Conduct medal on 9th July 1913 and this was presented to him in the Surveying Vessel HMS Endeavour by her commanding officer on 9th September 1913.

174298 E.A. Lincoln, Sto. 1 CL. H.M.S. HEARTY.

1914-1915 STAR TRIO

[THE GREAT WAR]

He served in the Endeavour throughout the Great War and it was from her that he was removed to the Hospital Ship HMHS 'Karapara' suffering from Bronchial Pneumonia on Tuesday 10th December 1918.

174298 E.A. Lincoln. Sto.1 R.N.

He had served in engine rooms as a stoker for his entire career and like so many servicemen was struck down by the Spanish Flu epidemic which ravaged millions around the world during this post-war period. Typically for this lethal illness and just two days after being taken ill on board HMHS 'Karapara' on Thursday 12th December 1918 he died. His papers record him as being "Discharged Dead" and as the Hospital Ship was in Greek waters his body was taken ashore and buried in the East Mudros Military Cemetery.

His wife chose the words "DUTY WELL DONE" as the epitaph on his headstone.

He was 43 years old. An outstandingly complete and rare group with much research paperwork including the full sevice sheet.

The East & West Africa Medal is EF, ALL OTHERS PRACTICALLY "MINT" & UNWORN AND ALL ON ORIGINAL RIBBONS

Almost certainly a unique combination. £2250 With part exchanges welcome.