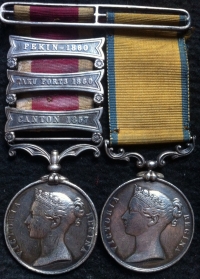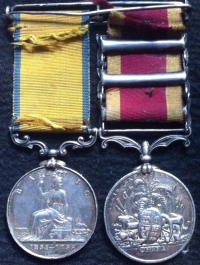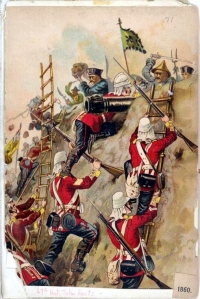 An Unusual 'Father & Son' R.M./ R.M.L.I. group of Five.
SECOND CHINA WAR MEDAL,1861

(3 clasps)

CANTON 1857TAKU FORTS 1860PEKIN 1860

& Baltic Medal.Un-named but attributed 'by association' to Thomas Smith.(Most Probably Royal Marine Artillery)&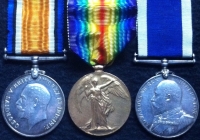 Son's WW1 War & Victory Medals & EDWARD VII L.S.G.C. To:Musician. CH.5415. H.J.N. SMITH. R.M.L.I. (LSGC to 'BUGLER' R.M.L.I.)

An intriguing family lot. We are currently researching to establish the service particulars of Thomas Smith who as confirmed by the 1881 census was indeed the father of the young RMLI Bugler H.J.N. (Henry John Nethersole) SMITH. Henry was born in 1876 and on the 1881 census, is shown as being a 5 year old living with his father "Thomas Smith" who is listed as a Drill Master. They were both living at 8 Sea View Terrace, Margate, Kent.
The address still exists and does indeed overlook the sea !! On the 1891 census Henry is shown as a member of the R.M.L.I. at Chatham serving as a Bugler age 15. He was probably in the service as young as 12. As you can imagine, there are literally hundreds of men called 'Thomas Smith' on the rolls for the China & Baltic medals, so we are doing our best to work it out !!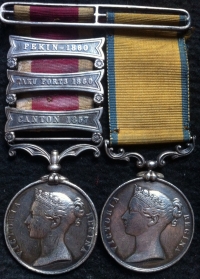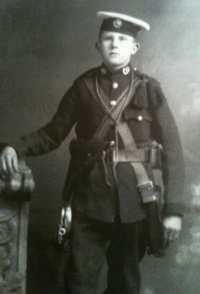 A ROYAL MARINE BOY BUGLER OF THE GREAT WAR.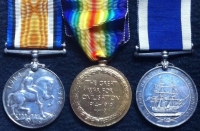 The Victorian pair are 100% original, and suspended on a classic 'double gated' silver top brooch. On original ribbons, the two medals are extensively contact marked through constant & proud wearing.The son's trio is practically mint state on original ribbons.


SOLD