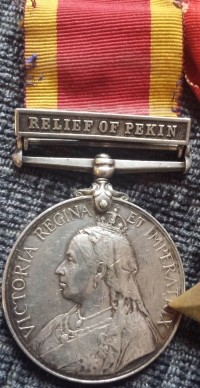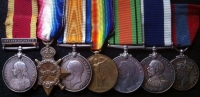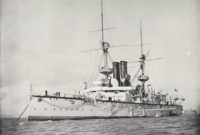 AN EXCELLENT "BOXER REBELLION" CHINA MEDAL1900
"RELIEF OF PEKIN "
NAVAL BRIGADE
(H.M.S. CENTURION & H.M.S. PEACOCK)
with
1914-15 TRIO,†
DEFENCE MEDAL, (Civil Defence WW2)
LONG SERVICE GOOD CONDUCT MEDAL (GV), R.N. 1917
(H.M.S. WALLINGTON)
&†
IMPERIAL SERVICE MEDAL (GV1) Post Office.
With
MARINE SOCIETY SILVER MEDAL OF MERIT†
(GOOD CONDUCT)
GROUP of EIGHT186961. Boy 2nd Class- C.P.O.1st Class
FREDERICK COULSTOCK. R.N.
(With Original Service Parchment & many other important†papers) 1) Original velum skin RN service record 1896-1919 showing his entire service record. (VERY INTERESTING WITH 1st PEKIN RELIEF FORCE ) 2) Marine Society Good Conduct Medal certificate. May 7th 1903 3) Letter of personal reference. 1st Feb 1909 ( signed by his Captain A.Chey HMS LONDON ) 4) Letter of personal recommendation. 21st December 1908. ( signed by Rear Admiral A. Galloway. C in C of R.N. War College Portsmouth) 5) Imperial Service Medal parchment. ( postman ) 2nd October 1940 6)Civil Defence Certificate (London, Region 6. ) confirming service 1941-1945. 7) Civil Defence Training School Certificate. ' Warden Rescue Instructor' 10th July 1944.
Frederick Coulstock was born in Tunbridge Wells on 4th March 1879. His home was at 4 Kensington Street. As a very young lad he was entered into the Marine Society who sent him to sea with the British Merchant fleet at the age of 15. From there he transferred to the Royal Navy, volunteering on 13th January 1896.
He was a short lad of 5ft 2" with brown hair, brown eyes and a ruddy complexion.
Fred Coulstock had an amazing and exciting career at sea and saw service in the Merchant Navy and Royal Navy where he took part in the RELIEF of PEKIN during the Boxer Rebellion as part of the 1st Pekin Relief Force which landed at Taku in June 1900.
Fred was first discharged from the R.N. on 5th March 1909 at the end of his original engagement of 12 years and immediately transferred to the Royal Fleet Reserve on 7th March 1909 until 12th July 1913 where he is seen re-enrolled 'until age 40'
On 2nd August 1914 he was mobilised at the start of The Great War with service in HMS VICTORIOUS, HMS LEANDER ,HMS St GEORGE & HMS WALLINGTON.
During his R.F.R. period 1909-1914, he worked as a Postman, a career to which he returned upon his discharge in 1919.
Two letters of reference are included, both written in 1909 by his immediate captain ( HMS LONDON ) and his Rear Admiral of the Channel .Fleet
His conduct throughout his service was VG and he gained three good conduct chevrons in 1914,15,16.
During WW2 he served as a full time Civil Defence rescue specialist and was closely involved with the Sea Cadets.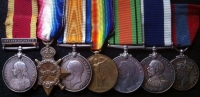 A SUPERB & COMPLETE ASSEMBLY OF GREAT HISTORICAL
SIGNIFICANCE SPANNING THREE WARS & THE REIGN OF FOUR MONARCHS WITH MERCHANT, MILITARY, CIVIL & DOMESTIC SERVICE.
£2450