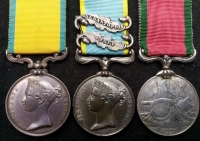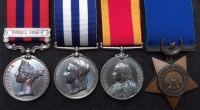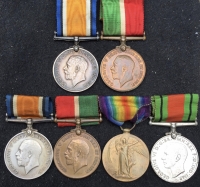 A MARVELLOUS "THREE GENERATION" NAVAL FAMILY GROUPING of SIXTEEN MEDALS.

**WITH EVERY GROUP HAVING FULL SERVICE PAPERS !**

To: THE NORSTER FAMILY of FOUR MEN, (& Brother-in-Law) SPANNING THE CRIMEAN WAR, INDIA, EGYPT, CHINA, & THE GREAT WAR.

[THE GRANDFATHER]

JOHN FRANCIS NORSTER. R.N. ABLE SEAMAN

BALTIC MEDAL 1854-1855 CRIMEA MEDAL (AZOFF)-(SEBASTOPOL) TURKISH CRIMEA (English)

(All unnamed as issued & confirmed on rolls) [BIOGRAPHY]

JOHN FRANCIS NORSTER (1827-c,1895)

John was born in 1827 at Beer, in Devon. He joined the Royal Navy at age 18 on 1st March 1842 as Boy 1st Class. His first ship of service was HMS CARYSFORT in which he served until 26th June 1845 (1 year 118 days) being there promoted to Ordinary Seaman. He then joined HMS PRESIDENT on 26th August 1845 and served until 29th January 1849. During his time in President he was clearly having a bad time of things in his early 20's as his character is described as 'Indifferent' and he's seen in Prison with an initial forfeiture of his 2 years, 194 days service for some unknown offence. This time was reaccredited at the end of his service. He's next seen joining HMS HERCULES on 18th August 1849 in which he served as an Able Seaman for 2 years 23 days with a "Very Good" character until 9th September 1851.

[THE COAST GUARD...Period 1]

On 24th September 1851 he transferred to the Coast Guard as a "boatman" in which capacity he continued until 12th February 1854.

[THE CRIMEAN WAR]

On 13th February 1854 John is seen re-enlisting into the Royal Navy at his previous rank of A.B. He joined H.M.S. PRINCESS ROYAL (91 guns) in which he took part in the actions in the Sea of AZOFF (Only 59 clasps to ship) & at the bombardment of SEBASTOPOL. He again left the Royal Navy on 9th July 1856.

[THE COAST GUARD...Service Period 2]

He rejoined the coast guard on 10th July 1856 in which he served for another 16 years as boatman & commissioned boatman at Lancing and Newhaven. He retired to a pension on 31st August 1872 with a total naval service of 26 years 318 days. John disappears from the family census records after 1891 so we feel he probably died aged about 68 around 1898. (*No LSGC was awarded because of his prison time in the late 1840's). NOW .....THE NEXT TWO GENERATIONS OF SAILORS

[THE SON ]

A very rare naval group of four. To:

JONAS GODFREY NORSTER. R.N. ABLE SEAMAN

INDIAN GENERAL SERVICE (BURMA 1885-87)

J. NORSTER, A.B. H.M.S. RANGER.

(Rare, only 59 to Ship) EGYPT MEDAL

J.G. NORSTER. LDG. SEAn, H.M.S. RANGER.

(81 to Ship) CHINA MEDAL 1900

J.G. NORSTER. CH. P.O. H.M.S. DIDO.

(460 to Ship) KHEDIVE'S STAR (1884-86)

Un-Named as issued.

(*Note: the above first three medals to J.G. NORSTER are ex-brooch mounted on the obverse (Proudly worn by grandma Norster). These have been professionally restored to a decent standard. The all important naming on all three medals is 100% ok and is totally unaffected.) [BIOGRAPHY]

JONAS GODFREY NORSTER (1859-1944)

Jonas was born on 3rd July 1859 at Lancing, Sussex. His father John was then aged 32 & was the coastguard at Lancing. Jonas joined the Royal Navy at Chatham aged 15 as Boy 2nd class. As boy service didn't count toward total service he was 'officially' in the R.N. at age 18 on 3rd July 1877 as an Ordinary Seaman. He served in various shore establishments and ships until joining HMS RANGER as an A.B. for the first time on 5th April 1884 until 17th January 1885. After a short time ashore at Osprey, he served in RANGER again from 31st March 1885 to 29th May 1887. While in the Ranger he earned his INDIAN & EGYPY medals.

[SERIOUSLY HURT IN BURMA]

While serving in HMS Ranger, Jonas Norster was seriously burned during an explosive incident caused by what can only be described as a 'hare brained & ridiculous scheme'. The plan, hatched by a junior officer was to construct a home made, scratch built explosive mine in a large potato tin !! (Can you believe that !!!!) This was required to blow up a small shipwreck which was blocking the river route of HMS RANGER. This 'Heath-Robinson Mine' was being produced by the young officer who had stuffed the old potato storage tin with gun cotton. He was just welding the lid shut when the canister exploded. Jonas Norster who was assisting by holding the tin steady was badly burned. The officer was blinded in one eye by the subsequent and predicable explosion when the gun cotton was ignited by the welding torch. (Yes !...It makes you wonder !!) His next ship of note on overseas service was HMS DIDO in which he served 14th April 1898 until 11th January 1902 during the Third China War in which he earned his CHINA MEDAL. In later life Jonas went to live with his daughter in Manchester where he died aged 85 in 1944.

[NOW, THE TWO GRANDSONS]

Both Mercantile Marine in The Great War. 1)

JONAS GODFREY NORSTER (Junior) 1893-1917

KILLED IN ACTION - 1st JULY 1917

WAR MEDAL & MERCANTILE MARINE MEDAL

JONUS G. NORSTER

[BIOGRAPHY] 1893-1944

Jonus (Jnr) the younger of the two brothers was born in Denton, Sussex in 1893. On 1st July 1917 he was serving as an A.B. in THE DUCHESS, a small British Cargo Steamer of 586 tons built in 1899 by Ailsa Shipbuilding Company, Yard No.83 for John Hay of Glasgow. She was a former railway paddle steamer later converted to screw (Propellor) propulsion. When on passage from Newhaven to France with war supplies she was involved in a collision with HMS COSSACK, 3 miles off the Royal Sovereign Shoals near Eastbourne. The Cossack's depth charges exploded as a result of the collision, sinking The Duchess with the loss of all hands while blowing off Cossack's stern. Cossack was towed to Dover for repair. The Duchess's crew of six were drowned but none of the men, including Jonus, are currently recorded on the CWG debt of honour website and have clearly been overlooked.

[LIST OF THOSE MEN DROWNED BUT NOT COMMEMORATED ON THE WAR GRAVES WEBSITE]

[KILLED IN ACTION 1st JULY 1917]

Jones G Norster. A.B. 26, Newhaven George A Burson, A.B. 18, Hastings David W Richardson, O.S. 18, Portslade William Turner, Cook, Liverpool Harry Everest, Fireman. 37, Ardingly Harry Hoadby, Gunner, Kettering 2)

JOHN FRANCIS NORSTER (1884-1963)

WAR MEDAL:

J. NORSTER. BOSN. M.F.A.

MERCANTILE MARINE MEDAL:

JOHN F. NORSTER.

VICTORY MEDAL:

J. NORSTER. BOSN. M.F.A.

DEFENCE MEDAL:

UNNAMED.

[BIOGRAPHY] 1884-1963

John, the elder brother, was born in South Heighton, Sussex on 17th June 1884. He joined the Royal Navy as Boy 2nd class on 17th June 1899 at HMS Ganges, age 15. Due to an unknown problem he was invalided ashore age 18 in April 1902. He clearly later joined the merchant navy and served in WW1 as a bosun in the M.F.A. and was still in service in 1922. His Defence Medal also indicates service in WW2 at age 55, presumably Home Guard. John died in 1963 in Ealing, West London, age 79

[THE BROTHER IN LAW]

Also included in this astonishing family grouping is the Military Medal & Pair to Brother in Law of the two above men S/7797, Pte William F Martin Middlesex Regt who after winning his MM in WW1 married their sister Elizabeth Norster. Most of these long running family groups become split up over the period of 170 years, but this miracle survivor has remained intact. The entire grouping containing two Victorian groups, two mercantile marine groups (including a casualty) ..... and an MM gallantry group is priced at only. £2995.00 With part-exchanges welcome.