A SERIOUSLY RARE & DESIRABLE,

ROYAL NAVY

"EIGHT CLASP"

QUEEN'S SOUTH AFRICA MEDAL
To:
149160. STOKER ALBERT TRUAN SUTTON. H.M.S. DORIS.
One of only 24 medals with eight clasps awarded to the entire Royal Navy & one of just FIVE to this ship. It is noted that he received a duplicate medal in November 1905. We have seen this particular medal for sale twice before over the last 10 years but have never encountered a secondary medal.
QUEEN'S SOUTH AFRICA MEDAL
OFFICIALLY IMPRESSED
149160. STO. A.T. SUTTON. H.M.S. DORIS.
BELFAST DIAMOND HILL JOHANNESBURG DRIEFONTEIN PAARDEBERG RELIEF OF KIMBERLEY MODDER RIVER BELMONT
[BIOGRAPHY]
Albert Truan Sutton was born in Plymouth on 3rd April 1870 and having previously been a labourer signed on at Plymouth at age 19 for the R.N. on 9th July 1889 for a 12 year engagement. He was a short man of only 5ft 3" . He served in HMS DORIS during the Boer War and was one of the small number of crew members who served ashore with Captain J.E. BEARCROFT R.N. at almost every action imaginable and hence qualified for a staggering number of clasps to his QSA. He was a generally good character and was only in trouble once in February 1904 for using obscene language.

He is recorded as having "RUN" (deserted) from HMS Defiance at Devonport on 18th January 1909 and finally showed up again (surrendered) under a slightly different name (JOHN HENRY SUTTON) 16 years later during WW1 on 5th November 1915. It was clearly accepted that he was in fact Albert Sutton and he was granted a free pardon.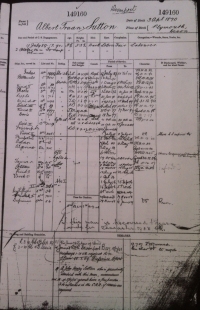 A VERY RARE, DESIRABLE & 'MUST HAVE' MEDAL.
With service record copies & medal rolls etc £2250 with part-exchanges welcome.