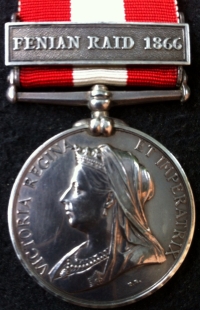 A VERY SCARCE

"ROYAL NAVY"

CANADA GENERAL SERVICE MEDAL 1866-70.

FENIAN RAID 1866

To:

Ordinary Seaman J. Colbourne H.M.S. Pylandes.

Ordinary Seaman Joseph Colbourne was born in Havant, Hampshire, in 1848 and joined the Royal Navy as Boy Second Class AGE 14 in 1862. His service included in H.M.S. Pylades, February 1864-November 1866. On 3rd June 1866 H.M.S. Pylades was in the port of Montreal, having been sent there in response to the Fenian threat. Intelligence reports suggested that some 3,000 Fenians were massing in the general area of Malone and Potsdam, New York State to attack Canada in the Cornwall area. Fifty sailors from the Pylades formed a Naval Brigade and along with 400 regulars from the Rifle Brigade were sent by train from Montreal to Cornwall to counter the threat, but the attack never came.

AN EXTREMELY SCARCE ROYAL NAVY CANADA MEDAL

(In 40 years we've never had one before & we can only find three having come for sale since 1990) THE MEDAL WHICH IS OFFICIALLY IMPRESSED IN THE NORMAL "TYPWRITER" STYLE LETTERING, IS EF+ / ABOUT MINT STATE ON ITS ORIGINAL RIBBON. WITH FULL ATTESTATION PAPERSAlso included is his Father's Permission to Join the R.N. Boy Service & HIS FULL SHIPS SERVICE RECORD. £895. A Superb Addition to a Serious Royal Navy Medal Collection.