An Excellent,Totally Original & Very Rare Early Marine Trio
Comprising
NAVAL GENERAL SERVICE MEDAL
(Syria)
Officially Impressed
 J. CHAPEL (roll confirms)
Long Service & Good Conduct Medal
(Wide Suspender)
Officially Engraved
J. CHAPPEL. GUNNER. R.M.A. 21Yrs   

St. Jean d´Acre Medal
(Copper).

To:
Private & later,Gunner,
JAMES CHAPEL.
ROYAL MARINES & ROYAL MARINE ARTILLERY.
HMS BENBOW. (74 Guns)
3rd Rate Ship of The Line.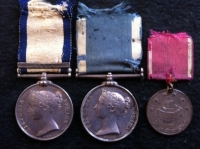 Born: Gloucestershire (1817)
Enlisted: Royal Marines,Portsmouth 1835(aged 18)
Serving: HMS BENBOW, Syria Campaign (aged 23)
Transfered:Royal Marine Artillery 1842 (aged 25) 
Awarded L.S.G.C. (c,1856) (aged 39)
Discharged: 1858 (aged 41)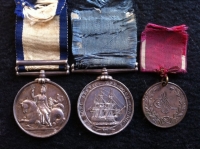 James Chapel fought in HMS BENBOW (74) during the Naval operations on the coast of Syria 1840 under Gunnery Lieutenant (later Admiral) Edward Philips CHARLEWOOD, Royal Navy, Born at Oakhill, Checkley, 14th November 1814
Charlwood was then the Gunnery Lieutenant on HMS Benbow and was the first officer to pull the trigger in the Syrian Campaign.
He was later credited for his part in the unsuccessful attack upon Tortaso on the 26th September 1840. It was first time that the introduction of steam came into the Naval Arena of the Royal Navy. On 17th July 1848 he was the Inspecting Commander of the Coast Guard, Deal
London Gazette dated 28th October 1884, promoted to Admiral.
Died in the registration district of Market Drayton 19th July 1894 aged 80
He enlisted into Royal Naval College 7th June 1827.
*******
Totally Uncleaned and on the Original Cotton Ribbons.
Slight General Contacting from Original Recipient's Wearing.
Otherwise About EF and Choice. 
TOTALLY NEW TO THE MARKET. 

£2850