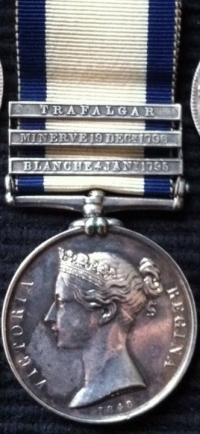 THE EXCEPTIONAL & FAMOUS THREE CLASP NAVAL GENERAL SERVICE MEDAL
of
THIRD CLASS VOLUNTEER,
 

"POWDER MONKEY"
Later
 

ABLE SEAMAN
JOSEPH CLARK
" GUNNER "

A classic 18th Century Royal Navy 'Jack Tar' sailor.
A 'magnificent' award with three clasps .
BLANCHE 4th JANUARY 1795 (5)
MINERVE 19th DECEMBER 1796 (4)
(as temporary gunners crew) 
TRAFALGAR (1710)
The full story of this medal, its discovery, its research and its amazing history is told in a 40 page colour illustrated research paper which is available from us on request for a price of UK£15.00. If you are seriously interested in purchasing the medal or are simply a keen naval or military historian you will find this paper most interesting and will be astounded at the full details and history of this wonderful medal. 
Joseph Clark was serving in HMS BLANCHE when CAPTAIN ROBERT FAULKNER was killed fighting the French in 1795.Only FIVE clasps were issued to surviving men who took part in this action.

He also served in this ship with the famous 'pressed' American sailor and 18th century naval diarist Jacob Nagle. He also took part in the famous Blanch Mutiny
Clark also served as temporary gunners crew in HMS MINERVE in 1796 during the voyage on which the then COMMANDER HORATIO NELSON first made acquaintance with 2nd LT THOMAS HARDY.Only FOUR clasps were issued to surviving men who took part in this action

Finally Clark served under CAPTAIN MANSFIELD in HMS MINOTAUR at
The BATTLE OF TRAFLGAR in 1805.This is THE most historic clasp which was issued to only 1710 of the surviving men from the Battle of Trafalgar

******************
This is one of the finest, most interesting, best documented and researched Naval General Service Medals extant. The medal is a true historical classic and its story sums up exactly what was going on 'below decks' in Nelson's Navy. This young lad Joseph Clark, joined the R.N. basically as a runaway from his Stepfather in Deptford in the early 1790's and became a Powder Monkey in HMS BLANCHE. He was in the ship during The Blanche Mutiny and served with the famous "pressed" American Sailor and diarist Jacob Nagle (The Nagle Journal) who's unique hand written record of life at sea in the early R.N. runs for over two years along side Clark's service while both men served together in HMS BLANCHE.   
Clark's story, from the medal's point of view, is a classic case of being in the right place at the right time as he took part in three of THE most important Royal Naval actions of the late 18th and early 19th centuries. He was 'lent' to the gun crews of HMS MINERVE and took part (under the command of the then Commodore Horatio Nelson) in the famous action with the Spanish Ship Santa Sabina in 1796 and (contrary to the published rolls) is actually entitled to the MINERVE 19th Decr, 1796 clasp.
Our 40 page research file on this medal (which took 5 years to research) is available on request at £15 + p&p and is a marvellous read for the keen naval historian. The file also shows just how much information is still available IF you are prepared to really DIG into the past.   
This medal was independently valued in 2007. The valuation took into account not only the fact that it's a rare three clasp award, but also the great rarity and great historical importance of the two frigate action clasps when combined with the presence of the famous TRAFALGAR clasp. We were privileged some time ago to present this medal and it's surrounding research papers to the Artefact Curator and Naval Document Specialist at Royal Naval Museum, Portsmouth. The museum, which holds the famous Captain Douglas-Morris collection of NGS medals was so impressed with our research that it requested a bound copy for inclusion in the national naval archive.
Contact us for a copy .......TODAY !           
THIS IS A 'MUST HAVE' MEDAL FOR THE SERIOUS NGS COLLECTOR, NAVAL INSTITUTION or RESEARCHER.
quality part exchanges welcome.
TOTALLY UNIQUE & ONE OF THE FINEST NAVAL GENERAL SERVICE MEDALS EVER OFFERED FOR SALE.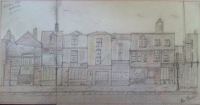 I am also including a hand produced pencil and pastel drawing of FLAGON ROW DEPTFORD showing how the street would have looked in the early 1790's -1800 when Joseph Clark live there as a boy. The building at the far right end with the dormer windows was the chandler's shop where we think his mother Bridget worked. I personally researched and produced this illustration myself. It was composited from early Victorian photographs taken from both ends and in various positions in the street in the late 1870's and well demonstrates that nothing had vastly changed in the 100 years since Joseph Clark walked it's cobbles.
Included in the sale are several other associated artefacts as follows: (a) A cooper scrimshaw token by Mate William Beaumont ( Sailmaker in HMS MINERVE ) which was produced in August 1796 while the ship was moored at Capo Fino ( This date and position is confirmed by the ship's master's log.) (b) Scrimshaw token in silver from HMS MINATOUR. (c) A very scarce Spanish 4 reales piece of 1796 of the same type which would have been in the pockets of the Captain of Santa Sabina at the time of the action of December 1796.