NAVAL GENERAL SERVICE MEDAL
(Syria),
Officially Impressed
To:
C.O. WOOD. MATE. (Later Lieut)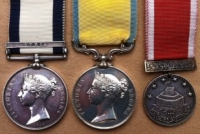 Baltic Medal (Unnamed as issued)
 St Jean d'Acre Medal
(TURKEY) (1840)
Unnamed as issued. 
( Note: The NEW Baltic Medal in EF+ almost Mint condition, is now with the group)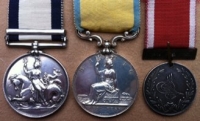 An interesting early naval group to an officer with a very varied career which took in service afloat in many areas of the world including: China, Mediterranean, North America, West India, Syria and the bombardment of St Jean D'Acre. 
Several sheets of comprehensive research and service details including a court marshall.
A SUPER THREE PIECE GROUP WHICH WE HAVE RE-ASSEMBLED BACK TO ITS FULL AND CORRECT ENTITLEMENT.  
Medals conditions are: NGS is EF.    Baltic is EF+ Near Mint,   St Jean d'Acre EF. 
      £2150