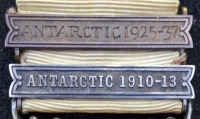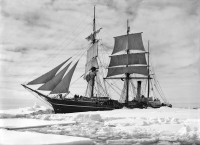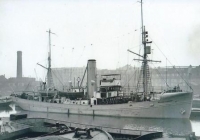 AN INTERNATIONALLY & HISTORICALLY IMPORTANT

POLAR MEDAL (George V) 2nd Type.

With A UNIQUE Two Clasp Combination Of:

[ANTARCTICA 1910-1913] &[ANTARCTICA 1925-1937]-(BRONZE)

For His Service As 2nd Engineer In The World Famous

ROYAL RESEARCH SHIP "TERA NOVA"

(With Captain Robert Falcon Scott on his 2nd & Fatal South Pole Expedition of 1912) "For The British Antarctic Expedition 1910-13 & Antarctic Research Work 1925-37"And in RRS DISCOVERY, RRS DISCOVERY II & RRS WILLIAM SCORESBY (London Gazettes 25th July 1913 & 7th October 1941) Officially Impressed, To:

271668. W.A. HORTON, E.R.A. 3CL, TERA NOVA.

(Later Lt Commander, Engineer)



"A TOTALLY UNIQUE MEDAL & TWO CLASP COMBINATION"

At the pinnacle of his career, William Ault Horton was a world famous figure as he held the undisputed world record for the number of Antarctic voyages completed....and at the time of his death in November 1939, being only 56 years of age, William Horton had spent no less than 10 seasons including winter voyages in the Antarctic, which was more often than any other man alive. A totally astonishing and unique medal, resting firmly within a tiny and exclusive genre of objects from the dawn of human Antarctic exploration. An award which truly confirms and demonstrates the maxim that we, the modern generation, are "standing on the shoulders of giants". CAPTAIN LAWRENCE OATS.

(A "REAL" ENGLISH HERO & THE ROLE MODEL FOR GENERATIONS OF BRITISH SCHOOLBOYS)

Who, suffering from the most terrible frostbite in his feet and hands and being unable to continue in the homeward struggle from the South Pole, had unsuccessfully asked Captain Scott to leave him behind. Undaunted in his will not to be a burden to his fellows, on 17th March 1912, his 32nd Birthday, he gallantly gave his life by walking out of the Scott tent into a massive -40c degree blizzard in a sadly vain attempt to save the lives of his three comrades. His feet were so bad he could not get his boots on, so he walked to his death in his socks. His body was never found.

"I'M JUST GOING OUTSIDE....AND MAY BE SOME TIME"

THE FINAL DIARY ENTRY OF ROBERT FALCON SCOTT, MARCH 29, 1912

"Every day we have been ready to start for our depot 11 miles away, but outside the door of the tent it remains a scene of whirling drift. I do not think we can hope for any better things now. We shall stick it out to the end, but we are getting weaker, of course, and the end cannot be far. It seems a pity but I do not think I can write more". R. Scott. Last entry. "For God's sake look after our people". The Young WILLIAM HORTON, Shown Standing Third From Left with other members of the crew of Tera Nova in 1912.
This critically important and totally unique two clasp "Scott Expedition" Polar Medal was personally presented to William Horton by King George V at Buckingham Palace on 27th July 1913, for his service as 2nd Engineer in the Steam Engine room of Captain Scott's ship RRS TERA NOVA. He was jointly entrusted with the critical operation of the steam engine which assisted in the propulsion of the TERA NOVA expedition of Captain Robert Falcon Scott and his world famous research team on their final and tragically fatal journey to South Pole during the Antarctic Expedition of 1912. There were only 65 medals and / or clasps awarded to the officers & crew of TERA NOVA for this expedition and only a minuscule number have ever surfaced.

[BIOGRAPHY] 1883-1939

William Ault HORTON was born in Derby, England on 14th January 1883 the son of John Edward Thomas Horton. The family were once resident at 116, City Road, Derby and Commander Horton had an address in Leopold Street, Derby. He joined the Royal Navy on 7th June 1904 for a 12 year engagement at the age 21 having been in his previous civilian life an engine fitter and turner, and was almost certainly an ex-apprentice at Rolls Royce. Served in Royal Research Ships:

TERA NOVA,

2nd Engineer, (Engine Room Artificer, 3rd Class, R.N.)

DISCOVERY,

Chief Engineer, 1925-27 Sailed with Captain Stenhouse during two Antarctic voyages 1924-27

DISCOVERY II,

Chief Engineer,1929-37 Sailed on Discovery II from London on 14th December 1929 with a return to Falmouth on 1st June 1931. The return voyage was via Port Stanley (16th March 1931), South Georgia (25th March 1931), St Vincent (7th May 1931),Tenerife (13th May 1931) , Falmouth (1st June 1931).

THE WILLIAM SCORESBY,

Chief Engineer.

[THE OFFICERS OF RRS WILLIAM SCORESBY]

(Mr Horton is seen Second from the left in the middle row) The RRS William Scoresby is shown here on a 9d Stamp issued for use in the Falkland Islands during the reign of King George VI.

One of THE FINEST Polar Medals Ever To Come To Market.

FROM OUR OWN COLLECTION (We are always keenly interested in purchasing similar interesting & emotive medals with great stories).