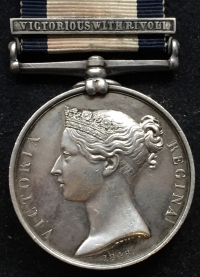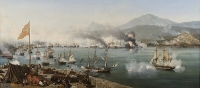 A SUPERB PAIR OF NAVAL GENERAL SERVICE MEDALS. To.

Midshipman Lt JOSEPH RAY.

"VICTORIOUS WITH RIVOLI"

HMS VICTORIOUS.

&

Landsman JOSEPH RAY.

"NAVARINO"

HMS ASIA.

As you will see, these two exceptional medals were awarded to two different men with identical names and as such are each uniquely able to confirm the other.

[MEDAL ONE]

MIDSHIPMAN / LIEUTENANT JOSEPH RAY. (HMS RIVOLI (74) "VICTORIOUS with RIVOLI"

(The Capture of the French "74" RIVOLI and the Destruction of the Corvette MERCURE on 22nd FEBRUARY 1812 off Venice)

Officially Impressed; [ Space ] JOs RAY.

Provenance: Glendenings: April 1902... (90/- shillings) = £4.10s.0d London Medals: March 2006.. (£2,100)

[JOSEPH RAY (Midshipman)]

The first medal to Midshipman Joseph Ray is slightly unusual in that it does not carry his rank. This is not a unique situation as a goodly number of the medals to midshipmen who had been recently been promoted to Lieutenant were not rank named, as is the case with this medal to Lt Joseph Ray. The edge naming on these medals is noticeably rotated to the right of centre so that a confirmed rank could be later added in the correct place. [*NOTE] This medal was inspected and fully authenticated by the late John Hayward in 2006 prior to its sale by a leading London medal dealership.

[BIOGRAPHY]

Joseph Ray was born in North London in the Parish of St George on 8th June 1795. He entered the Royal Navy as a 1st Class Volunteer on board HMS VICTORIOUS (74) on 13th February 1809 age 14. He was promoted to the rank of midshipman by 1811 at age 16. He was frequently employed in the boats of Victorious around the coast of Messina and was actively engaged in the defence of Sicily from invasion by the French under General Murat. Whilst a Midshipman and Mate onboard Victorious he was engaged in the much celebrated action against the French RIVOLI, a two and a half hour engagement in the Gulf of Venice in the Adriatic Sea. During the action Victorious lost 27 men killed and 99 wounded. The enemy ship lost 400 killed and wounded. He himself received wounds to his left arm during the action. Midshipman Ray also saw active service off the Coast of North America during the Anglo-American War of 1812-1815. While serving there in HMS WOOLWICH (44) under Captain Thomas Ball Sullivan, the ship and it's company found themselves wrecked on the North Coast of BARBUDA after a violent hurricane on 6th November 1813. He also served during the War of a Hundred Days, cruising off the coast of France in HMS LIFFY (50) under Captain John Hancock. Midshipman Ray saw his promotion to Lieutenant RN during 1823, whilst serving on the HMS OWEN GLENDOWER (42) off the West Coast of Africa which was actively involved with the suppression of the slave trade. Also served in the boats of this ship up the rivers on active service for six very arduous months. (Probably contracted Malaria). After this service he was invalided out of the service. He later sought service afloat with the Coast Guard & Revenue Service. In 1837 whilst serving at a station off Torquay a piece of silver was awarded to him for saving the lives of crew and passengers of a ship driven ashore at Torbay with particular risk to himself. In 1844, whilst serving as a commander of the Eagle, a Revenue Cutter, he was strongly recommended by Captain George Dobson RN for the capture of a French cutter and contraband and two French gallies and the conviction of 12 men. His service in the coast guard ended at the rank of Commander RN. WITH AN EXTENSIVE FILE OF RESEARCH PAPERS.

[MEDAL TWO]

JOSEPH RAY (Landsman)

[BIOGRAPHY]

This second Joseph Ray was born in about 1807 and joined the RN in 1826 is first seen serving on 9th October (age 19). He first served in HMS ASIA (84) in which ship he took part in the Battle of NAVARINO on 20th October 1827 (Modern Day Pylos). This action was in defence of the Greek War of Independence against the forces of Egypt and the Ottoman Empire (Turkey). His final ship of service was HMS St VINCENT with a final service date of 10th January 1855, (age 48) so Joseph was still a serving sailor when he applied for his award in about 1848-50 and clearly lived to wear it.

OFFICIALLY IMPRESSED: JOSh RAY

(centrally positioned). CURRENTLY RESEARCHING ( Price on Request ) WITH RESEARCH PAPERS.