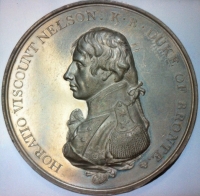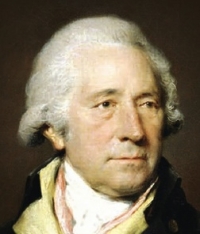 AN ASTONISHINGLY CHOICE EXAMPLE of "MR BOULTON'S TRAFALGAR MEDAL

(The Original "Lettered Edge" 1st Striking in White Metal).

"TO THE HEROES OF TRAFALGAR FROM M: BOULTON."

This is a truly astonishingly choice example of the famous & much sought after Mr Matthew Boulton's Trafalgar Medal. Produced at the Soho Mint in Birmingham, some 15,000 of the medals were produced entirely at the expense of Boulton himself who was "publicly saddened" that King George III had not produced an award for the brave Royal Navy seamen who fought & won the Battle of Trafalgar on 21st October 1805. [THE PRESENTATION OF THE MEDALS] However, the situation on the ground ( and in the harbours ) at the time of the delivery & presentation of the medals, which were all originally housed in small, flat, two piece metal shells, could only be described as a scene of total ingratitude. When the crews found out that the medal wasn't made of silver and couldn't be 'popped' ( Pawned ) for 5 shillings for 'baccy money' the vast majority were duly thrown overboard into the harbour. Being in base metal, most of the quite small numbers of surviving examples tend to arrive in a very 'grim' state indeed, but once in a while a seriously good specimen shows up....and here we have such a piece. This is the best example I've personally bought for well over 20 years. From another angle, this particular medal is also very interesting. Although save two very minor bag marks and being practically 'mint state' it exhibits a very slight and almost un-noticeable 'twist' in the planchette. This is clearly also in direct association with a minute test mark on the obverse upper rim at 'NTE' of Bronte. In our opinion, and from our extensive experience with this issue we can safely tell you that this example actually got off the ship at the time and was originally taken by the recipient to be pawned in some quayside jewellers shop. The jeweller has clearly & variously checked out the medal before parting with his cash & had clearly rejected it !! This is what we call "Living History" and is a totally direct link to one particular man on one particular day who was trying to "make a bob or two" just after a Battle that changed the course of British & European history for ever. When the great guns of The Royal Navy fell silent at the end of the Battle of Trafalgar on 21st October 1805, nobody dared fire a shot in anger at our fleet for over 100 years until the Germans had a go at the Battle of Jutland during the Great War. A MAGNIFICENT EXAMPLE ...FIT FOR THE FINEST COLLECTION OF TRAFALGAR & NELSON MEMORABILIA. SOLD .....GOING TO AMERICA !