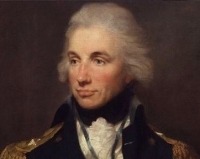 "NELSON"
VICTORY AT THE BATTLE OF THE NILE. 1st AUGUST 1798.

& Ferdinand IV's triumphal entry into Rome on 29th November 1798.

A rare copper-gilt medal by Thomas Wyon Senior.

Obverse: Winged Victory, holding oval medallion of Nelson, seated before pyramid, Reverse: British shield and fouled anchor with banner inscribed NOV 29 LAUS DEO 1798. Size & Reference: 38mm (BHM 450 and vol. III pp. 233 and 277; Eimer 892; Hardy 8 – RR in AE-gilt; MH 484) Some test marks in obverse right field.Otherwise Extremely Fine or Better.

This medallion normally arrives in it's standard bronzed variety. A standard bronzed example brought £336 as lot 56 at Bonham's auction (ten years ago) on 5th July 2005.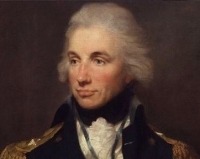 NORMALLY IN BRONZE, THIS IS A VERY RARE COPPER- GILT EXAMPLE IN E.F. or Better.

£495With part-exchanges welcome.