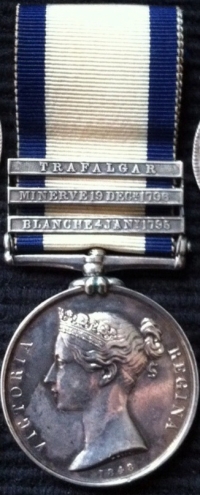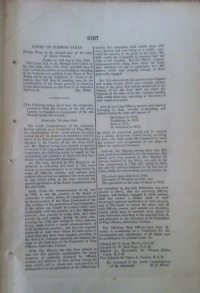 .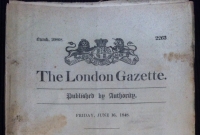 A SECTIONAL COPY OF THE ORIGINAL 'LONDON GAZETTE' of FRIDAY JUNE 16th 1848, of EIGHT PAGES CARRYING THE 'CLAIM NOTICE', DETAILS & CLAIM FORMS FOR THE ISSUE of THE NAVAL GENERAL SERVICE MEDAL 1848 ( and Clasps )
/b)> WE HAVE OUR OWN SUPER RARE & ORIGINAL EDITION OF THIS HISTORIC GAZETTE FROM WHICH THESE COPIES ARE TAKEN.We have never seen another example of this rare original document. Also records other military promotional details for officers of the early Victorian Army.If you collect or have an interest in this early naval award or period, you will be sure to buy one of these. Carries the original details and qualification requirements for a claim for an NGS. Also the original full page two section detailed claim format upon which ALL original claims of the NGS were made. Also a fascinating BANK OF ENGLAND STATEMENT on the current state of the national financial balances for July 1848.
A WONDERFUL DOCUMENT.BLACK & WHITE £15, COLOUR £20. ALSO INCLUDES A FREE 'FRAMEABLE' COLOUR PICTURE OF OUR FAMOUS THREE CLASP "TRAFALGAR" N.G.S. TO JOSEPH CLARK
A "MUST HAVE" DOCUMENT FOR THE SERIOUS MEDAL COLLECTOR OR NAVAL HISTORIAN.