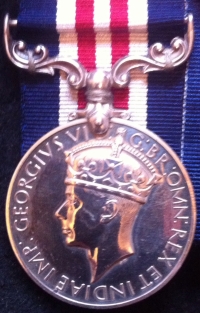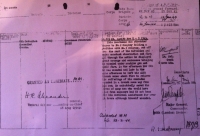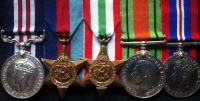 THE IMMEDIATE

"MURDER MOUNTAIN"

MILITARY MEDAL group of five.To:

2618923 Guardsman F. Smith.6th Battalion Grenadier Guards.

For "Great Courage and Endurance" at The Battle of Monte Camino 8th-9th November 1943.

The Battle of Monte Camino took place under winter conditions in the mountains during the Italian campaign and was one of the most ferocious battles of WW2. It was a particularly difficult & nasty battle which resulted in a very large numbers of dead and wounded casualties. MILITARY MEDAL.

(IMMEDIATE)

London Gazette. 23rd March 1944. The 1939-45 Star The Italy Star The Defence Medal The War Medal [CITATION] "This Guardsman was stretcher bearer to No 2 Company holding a position with No 3 Company, cut off from the rest of the battalion and under constant observation and fire. All through the action he displayed great courage and endurance bringing in wounded under machine gun and shell fire. In the afternoon Nov 8th he was wounded and late in same afternoon he left his slit trench under shell fire to relieve the sufferingsof his comrades wounded in a trench some way from his own. He undoubtedly saved the lives of many men who would have died from exposure had it not been for his continual assistance for over 24 hours although himself wounded".

[BIOGRAPHY]

Frederick Smith was born 29/04/1911 in Guildford Surrey and was living at 75 Callcott Rd, London NW6 when he enlisted into the Grenadier Guards at Acton on 22/04/1940. His trade was storekeeper. He had previously been an ARP warden and St Johns Ambulance/ Red Cross member holding 3 certificates and 5 medallions. He was posted to the 2nd battalion on 10/11/1940 and then to the 6th battalion. In May 1942 he completed a stretcher bearer course and was sent overseas to join 6th battalion on 17/06/1943. He landed with the battalion on the beaches at Salerno and fought with the regiment through the Italian campaign. After winning the MM and being wounded at Monte Camino where he received a bullet through the front of his left shoulder, he was transferred to the 5th battalion when the 6th battalion was dissolved between the 5th and 3rd battalions. He continued as a stretcher bearer. When the war ended he was discharged to the reserve on 17/11/1945. Upon leaving the army, his character reference was exemplary and contained the following:

" His Loyalty, diligence, bearing and soldierly qualities more than live up to the standard required by the Brigade of Guards – a testimonial he can be proud of in civil life".

A TRULY OUTSTANDING GALLANTRY AWARD TO A MAN OF GREAT VALOUR WHO SERVED UNDER THE MOST TRYING CONDITIONS WITH ONE OF THE MOST REVERED UNITS IN THE BRITISH ARMY.WITH FULL SERVICE PAPERS £2995 Part Exchanges Welcome.