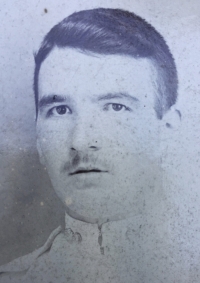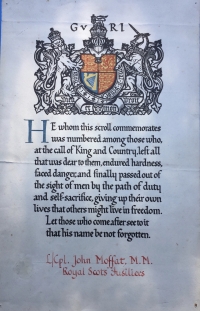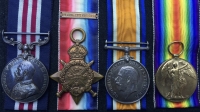 A RARE & SUPERB

"BAYONET TRENCH"

2/ROYAL SCOTS FUS'(GUEUDECOURT CASUALTY)

MILITARY MEDAL

1914 STAR & BAR TRIO, With Photo, Commemorative Scroll, Posthumous Medal Issue Papers & Super Rare Original Citation.

8161 Pte J.MOFFAT. 2nd Bn ROYAL SCOTS FUSILIERS.

KILLED IN ACTION, 12th OCTOBER 1916.

[THE MEDALS]

MILITARY MEDAL: (London Gazette: 9th November 1916)

8161. L.Cpl J. MOFFAT. 2/R. SCO. FUS.

1914 STAR:

8161. Pte J. MOFFATT. 2/R SCO. FUS.

WAR MEDAL & Victory:

8161. PTE. J. MOFFAT R.S.FUS

[BIOGRAPHY] 1885-12th October 1916 (Age 31)

John Moffat was raised as a Scots Presbyterian lad from CATRINE, East Ayreshire, Scotland. He was born in 1885 and being sadly orphaned in his infancy he was adopted by a Mrs Patrick who already had a son, Matthew to her previous marriage. John was educated at Catrine Public School and after leaving he was engaged in farm work. He then at age 20 joined the Royal Scots Fusiliers in March 1905 and served for eight years until 1913 when he joined the reserves. When his initial period of engagement ended in 1913 he went to Canada where he established a successful hair cutting business. A year later upon the declaration of the Great War on 4th August 1914 the regular members of 2nd Royal Scots were in Gibraltar and returned to England with a landing in September 1914. They then came under orders of 21st Brigade, 7th Division and proceeded to France with a landing at Zeebrugge on 6th October 1914. John himself, having already served the colours for 8 years was still listed as a Reservist and hence returned from Canada when he was called up. He was officially remobilised on 4th August 1914 at the age of 29. Like many such men he underwent some refresher training with an arrival in France a month later on 10th November 1914 in a second reservists reinforcement draft. He is seen in the medical admission & discharge book being admitted to hospital suffering from Influenza on 9th May 1915. He was engaged in the severe fighting on the Aisne, at 1st Ypres, Neuve Chapelle, Festubert, Givency and Loos.

John was sadly Killed in Action on 12th October 1916 on The Somme during the attack on Bayonet Trench.

His medals are seen being sent to Mr Mathew Patrick at Park Terrace & Mill Street, CATRINE on 21/10/1919 (1914 Star) & 17/5/1922 (The War & Victory). In his army will, he left Mathew, his step brother & Mr Margaret Patrick his adopted mother the sum of £11.17.6d in his army account.

[2nd ROYAL SCOTS FUSILIERS ON THE SOMME]

The 2nd Bn RSF served throughout the Battle of the Somme. 1st JULY 1916 (First Day) the unit was at MONTAUBAN 9th JULY 1916. ATTACK ON MALTZ HORN FARM 9th JULY 1916. ATTACK ON MALTZ HORN TRENCH. 30th JULY 1916. ATTACK ON GUILLEMONT

12th OCTOBER 1916.[THE ATTACK ON BAYONET TRENCH]

(8161, L/Cpl John Moffat Killed in Action)

By now the autumn weather was setting in and the conditions in the trenches were terrible. Although you could define the line here and there the actual trenches were by now flooded holes full of the dead on both sides and the smashed equipment of successive attacks that had failed. The assault was timed to go in at 2.50 p.m. and would involve all four companies going in as D, C, B and A with the 7th Suffolks advancing on the Norfolk's right.....

and a battalion from the 30th Division, namely the 2nd Battalion Royal Scots Fusiliers.

The 2nd Royal Scots were to move to capture Luisenhof Farm (between Thilloy & Gueudecourt) after they had secured Bayonet and Scabbard Trench. They would advance on these positions under the cover of artillery. (

Note:

Major Lanoe Hawker RFC was shot down, Killed and buried at Luisenhof Farm on 23rd November 1916 after his combat with Baron Manfred Von Richthofen "The Red Baron")

The 2nd Bn Royal Scots Fusiliers had only advanced 50 yards when they came under a terrifying hail of German machine gun fire from both flanks and as they continued onto Bayonet Trench they came up against the still uncut enemy wire upon which many men were caught and died. Along with the heavy machine-gun fire this stopped the advance in its tracks and the men still standing had to quickly retire into the limited shelter of shell-holes.

This then resulted in the Norfolks firing on German soldiers who were standing up in their trenches firing at them. This caused a number of casualties on the German side.

John Moffat was lost without trace during this action and has no known grave. He is Commemorated with Eternal Honour on the Thiepval Memorial to the Missing, Somme, France.

[THE RARE ORIGINAL CITATION FOR HIS MILITARY MEDAL & WAR OFFICE ENQUIRY RESPONSE DOCUMENTS]

(From Dept M.S.3.D. Room 10, 14 ALBERMARLE ST. LONDON. W.)

No. 8161 Lance Corporal John MOFFAT, 2nd Battalion Royal Scots Fusiliers. Fusiliers.

"Present at at NEUVE CHAPPELLE, FESTUBERT, GIVENCHY and LOOS. A machine gunner formerly now with Lewis Gun. A very keen and reliable N.C.O. and shews a marked sense of duty. Recently under most trying circumstances, when trenches near him had been blown in, he has always been to the front on the lookout with the sentry, and ready to fire his gun at any moment. Has at all times done his work exceptionally well." Recommended by H.SHEA, Major-General Recommended by W.CONGREVE, Lieut. General

[SUMMARY]

In all the 43 years we've been dealing in medals we've had perhaps just a 2% occurrence of a full original citation being available for any Military Medal. As keen collectors will know, the entire MM citation records and about 60% of the WW1 soldier's attestation records were destroyed in the Arnside Street, London Blitz fire during WW2. Not a single one of the MM citations survived the fire and unlike those for the awards of the D.C.M. & M.C. they were not additionally recorded in the London Gazette, with the result that the entire MM citation records were permanently lost to history. This we feel was perhaps the greatest loss of all to British Gallantry award records. However, our friend, Mr Howard Williamson is due to publish a major multi-volume work in which he has assembled a full listing of all the MM awards with many listed against their citations which he has gathered over many years of painstaking research.

[A SIGNED POSTCARD FROM JOHN IN FRANCE]

However, just every now and then we find an MM with a family note or a contemporary newspaper cutting which pretty closely follows the wording of the original citation, but even these odd surviving citations are very rare indeed...... But what we have here is a pretty well "unique" situation where a family member has clearly made a request for the official citation of John Moffat's MM which has been met with an official response and written reply showing John's citation which is all typed up on the original letter head from the War Office in London !

Fabulous ! .....and we've never seen anything like it !!!

A truly rare and seriously desirable Scots "Old Contemptible" Casualty Military Medal, 1914 Star & Bar group. Complete with the two posthumous medal issue letters, a contemporary newspaper cutting about John, his original commemorative scroll, a Royal plaque letter, a uniformed photograph of the recipient, and a signed silk postcard sent by John Moffat from France to his mother in Scotland. Comes complete with colour copy MIC, and CWG papers and medal rolls.

The Medals & Clasp are "MINT STATE" & As Issued with original mint ribbons.

This is a Totally Superb groupTry and find another one like this ! £2250 With part-exchanges welcome.