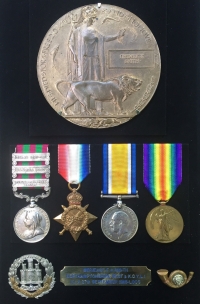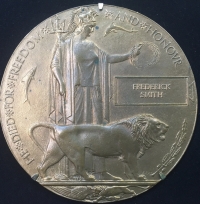 A Highly Desirable INDIAN GENERAL SERVICE MEDAL

[PUNJAB FRONTIER 1897-98][SAMANA 1897][TIRAH 1897-98]

1914-15 Trio & Plaque.To:

4229 Sgt F.A.SMITH (Northampton Regt) 3/2448. Sgt F.A.SMITH 10th Kings Own Yorkshire Light Infantry.

Killed-in-Action 3rd Day Battle of Loos, 27th September 1915.

[BIOGRAPHY]

Frederick Allen Smith was born in June /July 1876 in Birmingham. (CGW gives his middle name as Arthur) His mother Jane Smith lived at 29 York St, Huddersfield. His wife was Annie Smith of 29 Dorset Road, Kingsfields, Coventry. Prior to his enlistment he had worked as an iron moulder and in 1911 he is seen working as a motor car driver / mechanic for a vehicle manufacturer in Coventry.

[SERVICE IN THE VICTORIAN ARMY]

He attested at Huddersfield on 19th December 1893 age 17 and joined 1st Bn Northamptonshire Regt.

He served in India for nine years and took part in the frontier operations including the famous "Northampton's Last Stand" action at Saran Sar during the TIRAH campaign in 1897

. He served in India from 10th December 1895 to 17th March 1904. He was initially discharged at Northampton 'Gibraltar Barracks' on 18th December 1905 at the end of his first 12 year engagement. He was then placed in to Army Reserve as a Class D for another 4 years.

[THE GREAT WAR]

His reserve period having expired in December 1909 he clearly re-volunteered as part of K1 in late 1914 early 1915 at the slightly advanced age of 39. His next unit of service was to be 10th K.O.Y.L.I. which was formed in Pontefract in September 1914. The battalion was in training in the UK until it's arrival in France on 11th September 1915. [KILLED IN ACTION, 27th September 1915, 3rd Day Battle of Loos] Fred's war was tragically short as having only arrived in France on the 11th September he was killed in action just 16 days later on 27th September 1915 which was the Third Day of The Battle of Loos, where the 12 attacking battalions suffered 8,000 casualties out of 10,000 men in just four hours. Fred's body was lost without trace and he is commemorated on the Loos Memorial, Panels 97 & 98. Pas de Calais, France. With it's three clasp IGS this is a very scarce grouping indeed. It also retains it's Victorian attestation papers. Medals and plaque which are all EF are superbly mounted & framed with appropriate cap badges and name plate. Also includes a good folder containing a selection of research papers.

£1250

With part-exchanges welcome.