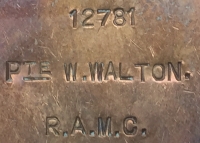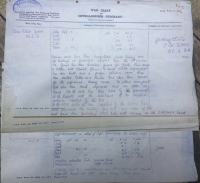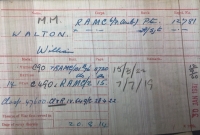 A Classic R.A.M.C. Boer War & Great War (Somme)

MILITARY MEDAL, QSA & KSA, 1914 Star and Bar Trio & M.I.D.

(With the very scarce

NATAL

clasp) To:

12781. Pte-Cpl-A,Sgt W.WALTON, 6th F.Amb / R.A.M.C.

AN EARLY ENTRANT TO FRANCE ON 20th AUGUST 1914

With copy MIC & Boer War medal rolls and other papers.

[THE MILITARY MEDAL]

"London Gazette ( ) November 1916" Many of the gallantry medals to R.A.M.C. soldiers who served in the field ambulances were awarded for rescuing casualties under withering enemy rifle and artillery fire, so it's fairly safe to assume that Cpl 'Willy' Walton performed such an act of bravery which led to the award of his Military Medal.

[UNIT HISTORY, 6th FIELD AMBULANCE R.A.M.C.]

6th Field Ambulance, Royal Army Medical Corps was part of 2nd Division when war broke out in August 1914. 2nd Division was one of the first formations to proceed to France with the BEF in August 1914, they remained on the Western Front throughout the war. It took part in most of the major actions. In 1914 they were in action in The Battle of Mons and the subsequent retreat, The Battle of the Marne, The Battle of the Aisne, the Actions on the Aisne heights and First Battle of Ypres. They took part in the Winter Operations 1914-15 and saw action at The Battle of Festubert. and The Battle of Loos. In 1916 they fought in the Battles of the Somme and the Operations on the Ancre. In 1917 they were in action during The German retreat to the Hindenburg Line, the Battles of Arras and The Battle of Cambrai. In 1918 they fought on the Somme, in the Battles of the Hindenburg Line and The Battle of the Selle. 2nd Division was selected to advance into Germany and formed part of the Occupation Force after the Armistice. A VERY VISUALLY ATTRACTIVE GROUP WHICH HAS A REALLY DESIRABLE MIXTURE OF MEDALS. These early Victorian & Great War gallantry groups are always very thin on the ground. A REAL CLASSIC 'OLD CONTEMPTIBLE'S' GALLANTRY GROUP. £1850 With part exchanges welcome.