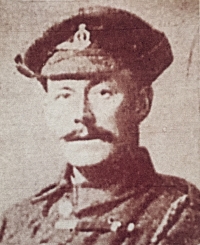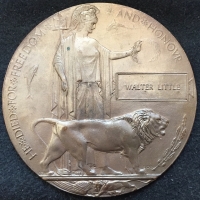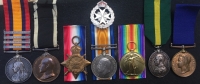 A UNIQUE & OUTSTANDINGLY SPECTACULAR "MEDICAL CASUALTY" GROUP of SEVEN

QUEEN'S SOUTH AFRICA MEDAL (Four Clasp) ST JOHN AMBULANCE BRIGADE MEDAL FOR SOUTH AFRICA GREAT WAR, 1914-1915 TRIO. TERRITORIAL FORCE EFFICIENCY MEDAL 1887 St JOHN VICTORIA 1887 SILVER JUBILEE MEDAL ST JOHN AMBULANCE & R.A.M.C. DEATH PLAQUE To:

Pte-Q.M.Sgt 218 & 255 WALTER LITTLE, ST JOHN AMBULANCE & R.A.M.C.

QUEENS SOUTH AFRICA MEDAL

(218. Pte W. LITTLE, ST JOHN AMB:BDE:)

ST JOHN AMBULANCE BRIGADE MEDAL FOR SOUTH AFRICA

(218 PTE W. LITTLE. MET CORPS)

1914-15 Trio

(255. S.SGT. W. LITTLE. R.A.M.C.)

TERRITORIAL FORCE EFFICIENCY MEDAL

(255 Sgt W. LITTLE. 3/E.A.F.A. R.A.M.C.)

St John 1887 Jubilee Medal.

(PTE W. LITTLE)

DEATH PLAQUE (Walter Little)

[BIOGRAPHY]

WALTER LITTLE was born in Bethnal Green, East London in 1876 the son of Walter J. Little & his wife Hetty. Educated in Bethnal Green, he served in the St John Ambulance Brigade during the Boer War earning a QSA (CC, OFS, SA 01 & SA 02) & a rare Edward VII St John South Africa Medal. He served at No.3 General Hospital at Johannesburg. He married Charlotte Lean of 65 Woodside Gardens, Bruce Grove, South Tottenham N, at Haggerston. She was the daughter of Richard John Lean. The couple had two children, Walter Stanley & Gladys Joyce.

[THE GREAT WAR]

At the outbreak of the Great War he volunteered again and is seen re-enlisted into the R.A.M.C.with an arrival with the Egyptian Expeditionary Force into theatre 2b (Balkans) on 15th August 1915. He sadly died of acute pneumonia at Giza Red Cross Hospital on 17th March 1916. He is buried in Cairo Old Cemetery. His commanding officer wrote to his widow:

" His loss is deeply mourned by the officers and men of this field ambulance. He was one of the steadiest , most reliable and hard-working N.C.O's that any Commanding Officer could possibly wish for......Your husband has gained the profound respect and esteem of us all"

A comrade also wrote: "In losing him we have lost one of the finest men in the company" We believe this is one of the best & most comprehensive St John & RAMC groups we've ever had the honour to offer. When they rarely show up, one normally sees just a QSA / St JOHN pair for the Boer War so a seven medal assembly of this nature is particularly rare. A Unique Combination, Bound for the finest collection of St John and R.A.M.C. medical medals. £2995. With part-exchanges welcome. 01342-870926.