MILITARY CROSS & MILITARY MEDAL
(Double Gallantry)
1914 STAR & BAR TRIO,
DEFENCE MEDAL & 1939-45 WAR MEDAL,
DELHI DURBAR 1911.
To:
47516. Bmbr,/ Sergt, / 2nd Lt, / Captain, / Sqd Ldr, / Wg Cdr.
Richard Sydney Yates, R.H.A. & R.F.A.
(and later R.A.F (Balloon Section) WWII)
 A TOTALLY CLASSIC, VERY RARE, & HIGHLY IMPORTANT 'DOUBLE GALLANTRY" GROUP OF EIGHT, TO AN "OLD CONTEMPTIBLE"
"Entered military service as a boy soldier and retired as a Wing Commander having fought two world wars and won two gallantry awards"

SUPERB MEDALS OF GREAT HISTORICAL SIGNIFICANCE. 

Richard Sydney Yates joined the Royal Horse Artillery as a junior soldier before WW1 and was stationed with "U" battery in India (8th Lucknow Brigade). and was awarded the 1911 'Delhi Durbar' Medal. On declaration of World War I in August 1914 many colonially based troops including Yates' unit were sent to France where they landed on 7th October 1914 as part of the 1st Indian Cavalry Division. Bmbr Yates' Medal Record Card, (see picture) which also confirms his gallantry awards shows disembarkation on 10th November 1914 as part of the B.E.F.  Richard Yates had a most varied and gallant career in that having begun at the lowest rank of Private (Bmbr) he then, by his great prowess gained a commission in 1917 and as well as winning two gallantry awards in WW1 he went on to re-enlist in the Royal Air Force in which he served as a senior ballon officer ( Squadron Leader and later Wing Commander) at RAF Cardington, Bedfordshire.    
 The Military Medal recommendation for 47516 Sergt. R. S. Yates, RHA. 
  "For conspicuous gallantry and ability at all times. He performed on officers' duties for a week, from 22nd July with marked success, and generally made himself indispensable to the battery.
He appears quite indifferent to any hostile fire and his alertness and quick wittedness are no less worthy of reward than the high courage and example he invariably shows."
(BATTLE OF THE SOMME)
('U' Battery, RHA War Diary, 31 October 1916;London Gazette 9 December 1916).
The "U" battery of RHA was in action at Crecy at the time.

His Military Cross citation as a 2nd Lieutenant, RFA 
"For conspicuous gallantry and devotion as forward observation officer during an attack. He maintained communication by lamp and runners after the wires had been cut, and sent back valuable information from the front line for the infantry battalion, as well as for the battery.
After the infantry had reached their objective he made a tour of the front line, under a heavy barrage, and made certain the artillery protective barrage was correctly placed, reporting the fact to his artillery headquarters."
(BATTLE OF PASSCHENDAELE)
(London Gazette 26 November 1917 (citation 6 April 1918)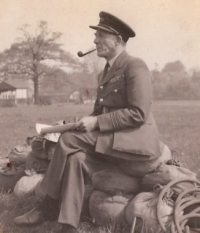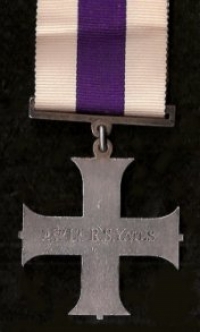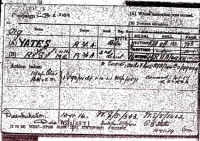 £4950
---